Giacinto Calandrucci
Palermo, 1646 – Palermo, 1707
The Virgin and Child appearing to Saint Dominic and an other Saint
265 x 194 mm – 10 7/16 x 7 5/8 in.
Plume, ink and brown wash, red chalk.
Annotated Giacinto Calandrucci in pencil on the mount at the bottom left. And with another hand, Carlo Maratti under the first inscription.
Stamp ( L. 2170 ) from the Jonathan Richardson the Young collection( 1694-1771 ) bottom right. Laid down on an old mount.
Born in Palermo in 1646, Giacinto Calandrucci was first a pupil of the painter and engraver Pietro del Po before joining the workshop of Carlo Maratti, of which he became the closest collaborator. In the 1680s, Calandrucci performed various decorative frescoes in Roman palaces :Four Seasons at the Palazzo Lante, the mythological frescoes of the gallery of the Palazzo Muti-Papazzurri, the decoration of the gallery of the Palazzo Strozzi-Besso and a fresco on the ceiling, the Sacrifice of Ceres, in Villa Falconieri in Frascati. He also painted altarpieces and ceilings for religious buildings such as San Antonio dei Portoghesi, Santa Maria in Traspontina, San Paolo alla Regola and Santa Maria dell ' Orto. His graphic work is relatively important, the majority being kept at the British Museum in London, the Kunstmuseum in Düsseldorf and the Louvre museum in Paris.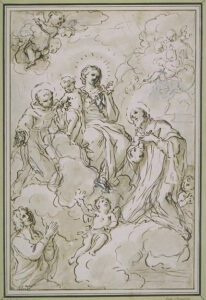 This drawing represents the Virgin sitting holding on her lap the baby Jesus, surrounded by two kneeling saints in adoration. An angel hands a fleur-de-lis, symbol of purity, to the Virgin while the child Jesus hands over the rosary, a large rosary used for prayer, to the saint on the left who seems to be, according to the scapular he wears, Saint Dominic, the representative of the order of the Dominicans. The other saint, located on the right, could be Saint Louis de Gonzague dressed in a dawn. The lily worn by the Virgin, a traditional symbol of purity, could also constitute an allusion to the legend according to which the Virgin would have brought a painting of Saint Dominic wearing white lilies at the monastery of Soriano in the south of Italy in the 16th century, subsequently giving rise to an iconographic cult and tradition : Saint Dominic in Soriano[ 1 ].
The vigorous features of the pen and the brown ink of this study, as well as its layout prior to the red chalk, are characteristic of the drawn work of Giacinto Calandrucci, disciple of Carlo Maratta. We can compare our drawing to a sheet representing Several saints in adoration before the Virgin seated with the Child[ 2 ] ( fig. 1 ) kept at the Louvre museum.
Condition report: Slight bites that do not affect the readability of the sheet, drying trace of the sheet in the upper part.
[ 1 ] Silvestro Frangipane, Raccolta de'miracoli e gratie oprate dall'imagine del patriarca S. Domenico di Soriano, Messina, 1634. [ 2 ] Paris, Louvre museum, Inv. 9602.