Italian school, 17th century 
A Soldier Standing in front of the Virgin and Child with other Saints 
Numbered 36 lower right and left. 
Pen and brown ink. Framing lines with pen and black ink. 
370 x 270 mm – 14 9/16 x 10 5/8 in.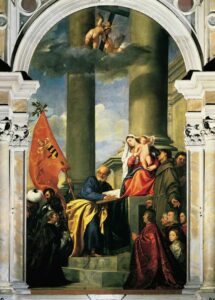 The Virgin and Child are seated on a throne supported by two lions, one of which at least having wings.  On their right-hand side are standing two Franciscan monks, probably Saint Francis of Assisi and Saint Anthony of Padua. Two praying benefactors are kneeling on the left side of the composition. A victorious soldier is standing in front of the Virgin, trampling a broken spear or stake underfoot, a banner unfurling behind him. Undoubtedly inspired by the Pala Pesaro by Tiziano (Basilica di Santa Maria Gloriaosa dei Frari, Venice), although in reverse and not a literal copy of it, this composition remains anonymous. It does not seem to relate to the Battle of Lepanto, but it is certainly connected to a military victory. The broken spear could be an evocation of Saint Giorgio's weapon, which is often called Ascalon, and could consequently make reference to the Venetian crusade against the city of the same name in 1122-24. But the drawing's author and the painting it relates to remain unknown.
Condition report: Good condition. One tear on the lower right edge. A few stains. One humidity stain on the verso. Pencil inscriptions on the verso. Abrasions on the verso edges.