François Léon Benouville dit Léon Benouville
Paris, 1821 – 1859
Study of a Draped, Half-Kneeling Man with Raised Hands – Study of an Angel (on the reverse, in black chalk)
Sanguine, squared in pencil on beige paper.
333 x 259 mm – 13 1/8 x 10 3/16 in.
Stamp of the artist François Léon Benouville (L. 228c) lower right.
Born in Paris in 1821, François Léon Benouville apprenticed in the studio of François Édouard Picot at the Ecole des Beaux-Arts in 1837. Younger brother of the landscape artist Achille Benouville, he started at the Salon of 1838. After obtaining the great Prix ​​de Rome for painting in 1845, Léon left for his stay at the Villa Medici in the company of his brother, winner of the grand prize for historical landscape the same year. In Italy, Léon devoted himself to history painting, developing a predilection for religious subjects. On his return to France, he obtained public recognition with Saint-François d'Assise, transported dying to Sainte-Marie-des-Anges, blessed the city of Assisi, exhibited at the Salon of 1853 and purchased for the Luxembourg museum ( now in the Musée d'Orsay, Paris). He died prematurely at the age of 38 of typhoid fever.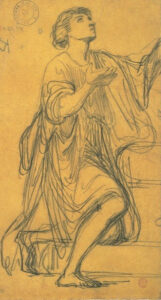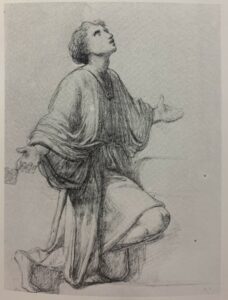 Our sheet is similar to a drawing executed by the artist in black pencil on tracing paper Young draped man, half-kneeling, facing right[1] (fig. 1), in which we find the same character camped in an identical attitude with some slight differences in the layout of the pleats. Another sheet kept at the Museum of Fine Arts in Rouen entitled Tobie in prayer[2] (fig. 2) presents the same character half-kneeling with a variant in the positioning of the open arms as a sign of adoration. On the back of the sheet, the artist quickly sketched a silhouette in black chalk which could be an angel – with the evocation of wings on the side of the character – which could confirm the theme of this sheet is related to the Toby's story.
Made in red chalk, the drawing was probably squared by the artist in order to be transfered to a larger pictorial composition.
Condition report – Good general condition. Small stains top and bottom right.
[1] Pencil on tracing paper ; 335 x 210 mm ; Louvre Museum, Paris ; Inv. RF 34574.
[2] Pierre noire sur papier chamois ; 317 x 240 mm ; Museum of Fine Arts, Rouen, inv. 897.6.102. Cf. Marie-Madeleine Aubrun, Léon Benouville (1821-1859). Catalogue raisonné de l'œuvre, Nantes, 1981, p. 243, D. 346.