Florentine school, late 16th or early 17th century 
Young Man Wearing a Hat
Red chalk. Framing lines with red chalk.
143 x 124 mm – 5 5/8 x 4 7/8 in.
Provenance – Giorgio dalla Bella, Milan, his stamp (Lugt 3774)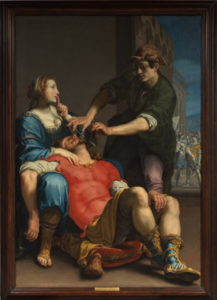 Still anonymous, this charming drawing can be classified into the Florentine school. The use of a smooth red chalk and the schematic treatment of volumes by means of light contrats are typical of Florentine graphic habits. The small angular face with sideways glance is reminiscent of Andrea Boscoli (1560-1607) although this artist's graphic style is usually sharper. Similar hat style can be found in paintings by Cristofano Allori (1577-1621) such as his Self-portrait (Florence, Uffizi Gallery) for example, but a particularly close hat appears in Samson and Dalilah (Stockholm, National Museum) by Lorenzo Lippi (1606 – 1664), which would help date the drawing to the first part of the 17thcentury.
Condition report – Very fresh red chalk. The upper, left and right edges reintegrated.