Nicolas Mignard dit Mignard d'Avignon
Troyes 1606 – Paris 1668
Recto : Study of three Heads and a Leg
Verso: Study for a saint Elizabeth
Red and black chalk on beige paper (recto) ; red and black chalk heightened with white (verso). Watermark "grappe de raisin". 
405 x 240 mm – 15 15/16 x 9 7/16 in.
Provenance : Marseille, Provence auction, 27 June 2015, lot 17.
Born in Troyes in 1606, Nicolas Mignard settled in Avignon from 1632 onwards, where he led a flourishing career, addressing all the "genres" of paintings: portraits, still life, mythological and religious scenes. During his stay in Italy in 1635-1636, he was impressed by Annibale Carracci's large decors in Palazzo Farnese, which he later engraved. Summoned to Paris by Royal letter in 1660, Nicolas Mignard was entrusted with the decoration of the King's Petit Appartement in the Tuileries. Elected a member of the Académie Royale de Peinture et de Sculpture in 1663 and later appointed a professor and rector, he died in Paris in 1668. He was called "Mignard d'Avignon" to be differentiated from his younger brother Pierre, called "Mignard le Romain" (1612 – 1695).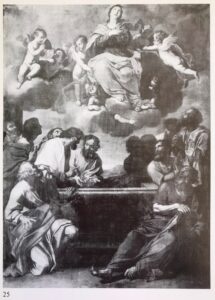 On the recto, our drawing bears studies of heads and a leg which are preparatory studies for the apostles figures in the Assumption of the Virgin, an altar painting executed in 1643 for the Church of St-Marta in Tarascon (Fig. 1)[1]. Both of the head studies – bowed head of bearded men in profile, higher left and lower right of the recto – are preparatory studies for the apostle standing on the left and gazing down at the empty tomb. The studies of a leg and a head looking upward are preparatory for the apostle kneeling in the foreground to the left and watching in amazement the Virgin's assumption. Antoine Schnapper suggested that this composition, although its different spatial approach, was inspired by Annibale Carracci's famous Assumption painted in 1600-1601 for the Capella Cesari in Santa Maria del Popolo, a painting from which Mignard indeed borrowed the five apostle figures on the foreground. Another sheet by Mignard bearing preparatory studies for details in his Assumption is in the Louvre (inv. RF 36843)[2].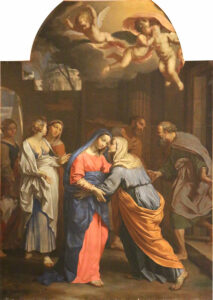 On the verso, the study of a draped woman walking to the left is a preparatory study for saint Elizabeth welcoming Mary in the episode of the Visitation, a painting executed for the main altar of the chapel in the Visitation-St Georges convent, but disposed in the Black penitents' chapel in Avignon, in 1816, (Fig.2). Adrien Marcel suggested that this altar may have been painted around 1648 when the Visitandine sisters took possession of the convent[3]. A preparatory drawing for the composition in the Metropolitan Museum (inv. 2010.233) is very close to the final painting and another one, squared for transfer, belonged to the painter's descendants, like a vast majority of his drawings, until they were sold to the Louvre in 1978 (inv. RF36845).
Both paintings are not dated to the same year. Nicolas Mignard frequently used the verso of his drawings, even many years later. As explained by Antoine Schnapper, one of Mignard's peculiarity is to dissociate draperies from bodies in his drawn studies. In this drawing, the verso focuses on Elizabeth's drapery, her head only roughly sketched, whereas the recto presents carefully studied apostles' faces and limbs. These details studies are among the artist's most interesting works: combining the black and red chalk effects with ease, he knows how to alternate light and shadow in order to model shapes and volume.
[1] Antoine Schnapper, Nicolas Mignard d'Avignon (1606-1668), Palais des Papes, Avignon, 1979, n° 25, p. 56.
[2] Idem, D. 13, p. 126.
[3] Adrien Marcel, Mignard d'Avignon. Peintre et graveur (1606-1668) in Mémoires de l'Académie de Vaucluse, Première série, Tome XXXI, année 1931, Vaison, A. E. Macabet Frères, p. 1-111, n° 80, p. 73-74.
Condition report – Very good condition. Four small grey stains.