Jules Machard
Sampans, 1839 – Bellevue, 1900
Study for the "Inspiration of Saint Cecilia" and silhouette of Mary and the Angel Gabriel for an "Annunciation" in the upper part
359 x 195 mm – 14 1/8 x 7 11/16 in.
Pen, ink and wash on tracing paper
Stamped signature J. Machard (L. 5030) lower right
Bibliography: Virginie Frelin and Elisabeth Coulon, Jules Machard, le culte de la ligne, exhibition catalog, April 4 to June 15, 2003, Musée des Beaux-Arts de Dole, repr. n° 20, p. 102.
This drawing belongs to a set of 85 drawings from the studio of Jules Machard presented by Drawings-online. Read our focus on the artist.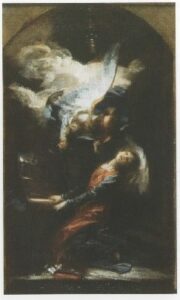 This drawing is a preparatory study of the composition for the painting of the Inspiration of Saint Cecilia presented at the Salon of 1878 (purchased by Mr. Morton, the United States Minister). An oil sketch is in the Tessé Museum in Le Mans (inv. 10 1172, fig. 1).
The saint is kneeling before the organ, playing music with her right hand, while her body seems to be tilting backwards, held in its fall by a musical angel. The wash highlights the dark areas and brings out the chiaroscuro process to reveal the essential parts in his final painting.
At the top of the sheet, the artist has sketched a study of Mary and the Angel Gabriel for the project of an Annunciation.