85 drawings from the studio of Jules Machard (Sampans 1839 - Meudon 1900)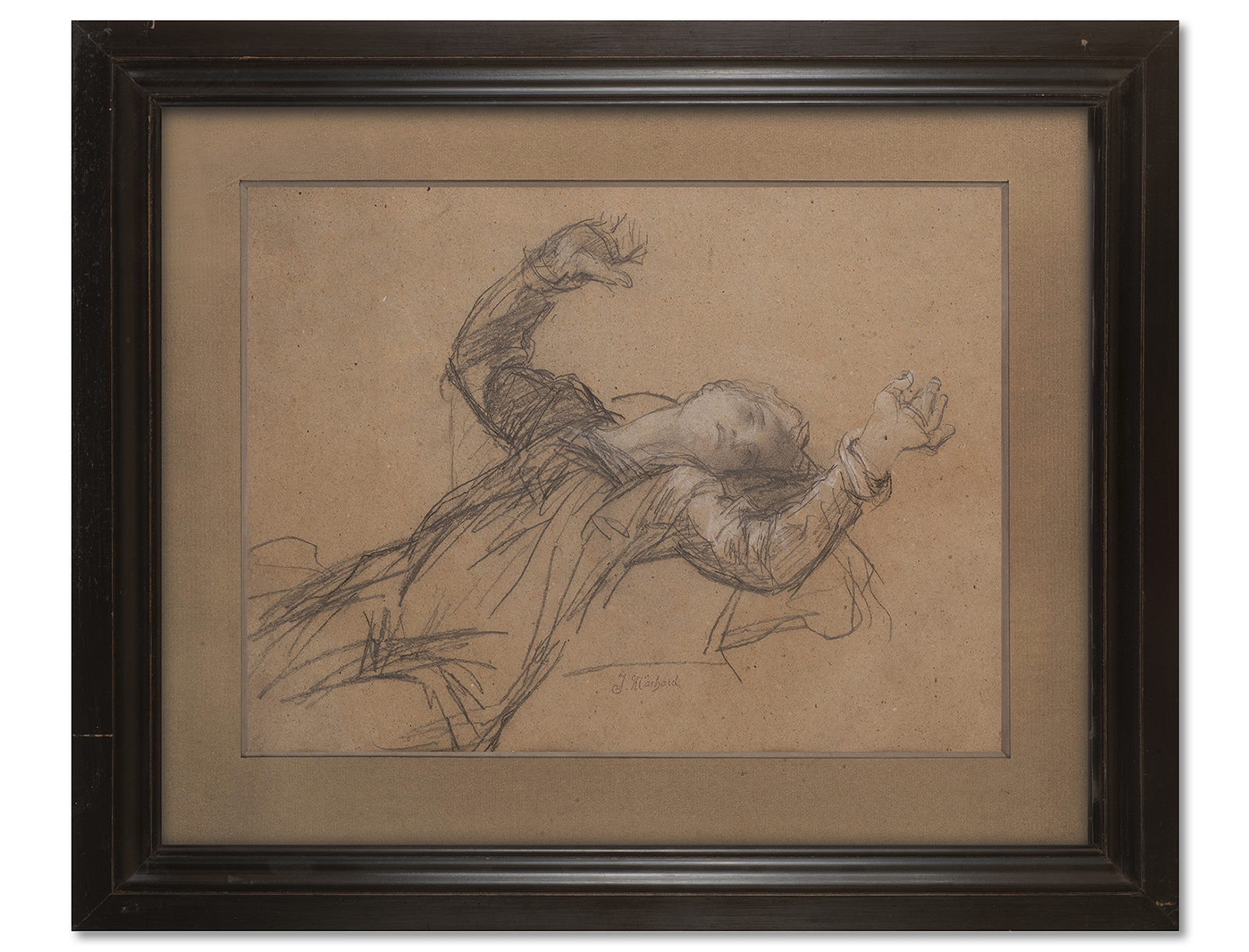 Having acquired a certain level of fame with his portraits of women, from 1875 onwards, Jules Machard relished a growing notoriety within the Parisian milieu. Marcel Proust in Du cote de chez Swann evokes this success in a dialogue exchanged between Madame Cottard and Swann: "I am not asking you, Sir, if a man of action like you has seen Machard's portrait at Les Mirlitons, which is the talk of Paris? Well what do you say? Are you on the side of those who approve or those who blame? In all the salons, the talk is of nothing but Machard's portrait; one is not chic, one is not pure, one is not in the know if one does not give one's opinion on Machard's portrait."[1]
Born in 1839 in Sampans near Dole in the Jura region of France, Machard came from a modest background. At his father's request, Machard was destined to go to
Ponts et Chaussées
(School of Civil Engineers, Bridges and Roadways) from the age of seventeen. He went to Lyon for a while as a draughtsman for the railway administration and then as a bridge and road agent. Machard returned to Besançon where his family had settled to begin his artistic career in the painter, Édouard Baille's studio (1814-1888). Baille passed on the academic lessons of David's school. In 1861, Machard obtained a pension and left for Paris to attend the école des Beaux-Arts, the most elevated of its kind at the time. He frequented the studios of painters Édouard Picot (1786-1868) and Émile Signol (1804-1892) and perfected his technique by preparing for various Fine Art competitions. In 1863, Machard exhibited two male portraits at the Salon and in 1864, presented a sketch for the first stage of the Prix de Rome, but despite some success, illness prevented him from getting any further that year. He won the prize the following year with a painting depicting
Orphée descendu aux enfers demander Eurydice
(Orpheus Descending into hell Asking for Eurydice, Paris, école Supérieure des Beaux-Arts, inv. PRP 116).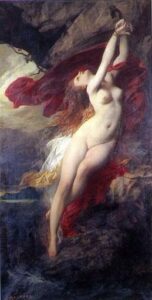 In January 1866, Machard travelled to Italy where he joined the Académie de France in Rome, a breeding ground for young talent. In 1867, his first delivery, Le Cadavre du dernier fils de Frédégonde retrouvé par un pêcheur (The Corpse of the Last Son of Frédégonde Found by a Fisherman) was bought by Louis Pasteur despite a very mixed reception from the Beaux-Arts administration. During his stay at the Villa Medici, Machard painted many portraits, a genre that he began to appreciate and which made him very popular while also enabling him to earn some money. The discovery of the Venetian master colourists –Titian, Veronese and Tintoretto – also marked his works with the influence of their chromatic palette. In 1869, Machard sent two canvases to the école des Beaux-Arts in Paris, including his famous Angélique attachée au rocher (Angélique Chained to the Rock) (fig. 1, cf. ma034, ma158
[2]
) that garnered a "
très grand succès dans les comptes-rendus de la presse et du public
" (great success in press reports and from the public
[3]
). Machard devoted himself to the nude, often developing lascivious poses executed in a meticulous technique: he is guided by the idea of ​​grandiose simplicity and an ideal of purity inspired by ancient art and especially Greek art.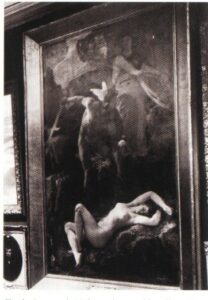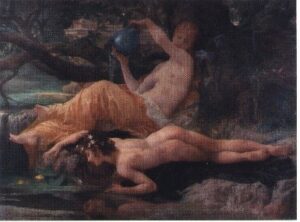 In 1870, Machard presented a composition illustrating
La Mort de Méduse
(The Death of Medusa, fig. 2, cf.
ma082
[4])
and the following year,
Narcisse et la Source
(Narcissus and the Spring, fig. 3
[5].
In 1874, he painted
Séléné
[6]
, a personification of the Moon that won him a very positive reception and went on to serve as a model for a tapestry produced by the Gobelins workshop
[7]
.
ma009
,
ma038
,
ma110, ma111
,
ma194
). In 1875, Machard married Ernestine Louise Marie Aléo, a woman of Cuban origin, who often posed as his model (
Portrait de madame Jules Machard
, fig. 4, cf.
ma008
[8]
).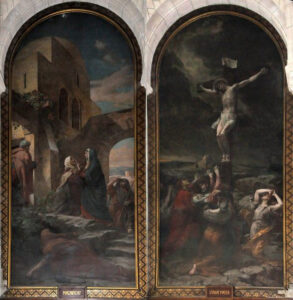 This was the same year that the Marquis de Chennevières, director of Beaux Arts, commissioned four panels from Machard illustrating the life of the Virgin, destined for the Church of Notre-Dame de la Croix on the Ménilmontant hill. Machard only produced
The Visitation
and
the Stabat Mater
(fig. 5 and 6, cf.
ma128
,
ma129
,
ma130
,
ma136
,
ma137
,
ma146
,
ma174
,
ma188
), unable to continue due to health problems.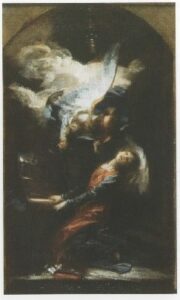 The remaining two canvases – The Annunciation and The Visitation, would be completed by one of his peers, Alphonse Monchablon (1835-1907). These works remain rare examples of religious paintings within the artist's corpus, together with the Inspiration de sainte Cécile (Inspiration of Saint Cecilia, fig. 7, cf. ma005, ma006, ma075, ma076), completed in 1878
[9].
Machard also tried his hand at decorative painting, in particular ceiling paintings such as those executed in London in 1876 for Montagu House castel,
Psyché emportée par Zéphyr
and
Psyché rendue à l'Amour
(Psyche Carried Away by Zephyr and Psyche Returned to Love), and in 1877,
Le Passage de Vénus
(The Passage of Venus) painted for the Duke and Duchess of Buccleugh (cf.
ma040, ma104, ma105, ma106, ma107, ma126, ma139, ma141, ma142, ma143, ma144, ma145, ma147, ma150, ma173, ma176, ma177, ma186, ma189, ma196
). Machard devoted the last years of his life to painting portraits. He died of illness in September 1900 in Meudon.
Machard, who has long been classed in the category of peintre pompier (perjorative term for academicism), probably suffered from a lack of confidence and will which made him sacrifice his talent on the altar of mondaine portraits. Perhaps he is not equal to a Bouguereau, a Gérome, a Gervex or a Carolus-Duran, but his drawings often testify to a great freedom and even to virtuosity. The knowledge that we have of this painter has been greatly enriched thanks to the Dole retrospective of 2003 and the fascinating catalogue written by Virginie Frelin and Elisabeth Coulon[10]. Their title, Jules Machard et le culte de la ligne (Jules Machard and the Cult of the Line) illustrates the artist's talent as a draughtsman who produced multiple studies of putti and women with graceful expressions combining charm and delicacy in an undulating line, to perfection (cf. ma131, ma140, ma145, ma171, ma172, ma191). During Machard's "Italian years", his sketchbooks were filled, "with studies after nature, from antiquity and after the great masters, using all modes of interpretation: pen, black pencil, pastel, red chalk, watercolour, from sketch to sketch (…)[11]" Qualified as an academic draughtsman and "pompier", Machard also expressed himself in more complex compositions that combine the rapidity and vigour of his line: "His best pieces are those where the fury of the pencil or the pen gives life to a swirling sketch, apparently confused, but where the hand finally asserts itself and gives power and emotion to the drawing[12]." There are still, however, periods and areas of Machard's personality to be explored. What to think, for example, of his many drawings (cf. ma015, ma018, ma019, ma041, ma042, ma057, ma058, ma059, ma061, ma062, ma063, ma125) which do not correspond to any known pictorial composition and that we suppose date from the last years of his life, bringing together in a systematic way, the figures of Love and Death?
Discover all the drawings presented by Drawings-online.
Discover all the drawings presented by Drawings-online.
---
[1]
Marcel Proust,
Du côté de chez Swann
, (Swann's Way) 1
st
edition, 1913, Gallimard, 1946,
p. 210
.
[2]
Dole, Musée des Beaux-Arts, inv. 78.
[3]
Victor Guillein, "Notice sur le peintre Jules Machard, associé correspondent franc-comtois" (Notice on the painter Jules Machard, associate correspondent from Franche-Comté),
Académie de Sciences, Arts et Belles Lettres de Besançon,
1901, p.LIII.
[4]
Besançon, Musée des Beaux-Arts, inv. D.874.1.1
.
[5]
Chartres, Musée des Beaux-Arts, inv. 3811.
[6]
Today held at the Chimei Museum, Taiwan.
[7]
Woven between 1874 and 1878, Gobelins Factory, Paris, inv. GOB-112-000.
[8]
Arras, musée des Beaux-arts, inv. D. 929.1.
[9]
Sketch for the painting presented at the 1878 Salon, Le Mans, Musée de Tessé, inv. 10.1172.
[10]
Virginie Frelin and Elisabeth Coulon,
Jules Marchard et le Culte de le Ligne
(Jules Marchard and the Cult of the Line), exhibition catalogue, 4
th
April – 15
th
June, 2003, Musée des Beaux-Arts de Dole.
[11]
Charles Baille,
Le Peintre Jules Machard (1839-1900)
( The Painter, Jules Machard)
,
printing, Abel Cariage, Besançon, 1900, p.10
[12]
Virginie Frelin,
op. cit
, p. 133.