Philippe de Champaigne
Brussels 1602 – Paris 1674
Benedict of Nursia miraculously Discovering a Hidden Fountain
Inscribed lower left S. Conca (recto) and aa (verso).
Pen and brown ink, grey wash.
162 x 198 mm – 6 3/8 x 7 7/8 in
Provenance
London, Christie's 7 July 2015, lot 50.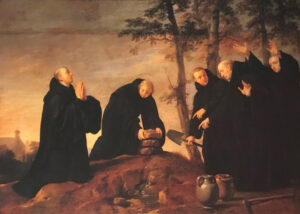 This drawing is a preparatory study for the Miraculous Fontain (Fig. 1; Royal Museums of Fine Arts of Belgium in Brussels, Inv. 29; see Bernard Dorival, Philippe de Champaigne 1602 – 1674, Paris, 1976, II, n° 103 and Dominique Brême, À l'école de Philippe de Champaigne, exposition au musée d'Évreux du 18 novembre 2007 au 17 février 2008, Somogy éditions, 2007, p. 185, fig. 81)), a painting which was formerly part of a series of twelve scenes devoted to the Life of Saint Benedict executed for Queen Anne of Austria's chamber in her apartment of the Val-de-Grâce Royal abbey around 1655-56 by Philippe de Champaigne, Jean-Baptiste de Champaigne and Nicolas de Plattemontagne. This series of paintings was divided during the French Revolution; eleven of them are in the Royal Museums of Fine Arts of Belgium in Brussels, Hermitage in St Petersburg, Musée Carnavalet in Paris, Musée des Beaux-Arts in Menton, and in a private collection.
A renowned painter and religious man, Philippe de Champaigne attracted Louis XIII's mother Marie de Medicis' attention in 1628 and, as a painter of the royal family, he was asked to participate in the Luxembourg Palace decoration. In 1655-56, it is for Anne of Austria, Louis XIII's wife, that he painted the Life of Saint Benedict series. This drawing is the only surviving  presentation drawing related to this series. However, a few figure studies, drawn with black and white chalks and attributed to Champaigne's partners, are related to this series (see Frédérique Lanoë, Trois maîtres du dessin, Philippe de Champaigne Jean-Baptiste de Champaigne, Nicolas de Plattemontagne, exhibition catalogue, Magny-les-Hameaux, Musée National de Port-Royal des Champs from 25 March to 29 June 2009).
The subject illustrates one of Saint Benedict's miracles, the finding of a source near a monastery, drawn from the second book of Saint Gregory the Great's Dialogues (592) and Jacques de Voragine's Golden Legend (1261 – 1266).  Three of the monasteries founded by Saint Benedict had poor water supply. One night, he went up to the mountain with a young child and, after praying for a long time, they found a water source.
The right-hand side of the painted composition is quite similar to the drawing's, featuring the same group of three bewildered monks and the same amphorae on the foreground, whereas the left-hand side of the composition was radically transformed. Instead of being shown in the action of digging, Saint Benedict is now represented kneeling in prayer. Champaigne has also added the young boy wearing the Benedictine habit and piling up three stones near the source for the monks to be able to trace its location.
The delineation of the figures with the pen and brown ink and the suggesting of the habits pleats by skillfully applied grey wash is characteristic of Philippe de Champaigne's composition drawings, such as The Presentation of the Virgin to the temple (New York, Metropolitan Museum, inv. 2008.93).
Condition report: Laid down on a thick paper. Some slight foxing, especially in the upper right corner.