Jules Machard
Sampans, 1839 – Bellevue, 1900
Studies of Perseus and Medusa for "The Death of Medusa"
236 x 314 mm – 9 5/16 x 12 3/8 in.
Pencil on paper.
Stamped signature J. Machard (L. 5030) lower left.
This drawing belongs to a set of 85 drawings from the studio of Jules Machard presented by Drawings-online. Read our focus on the artist.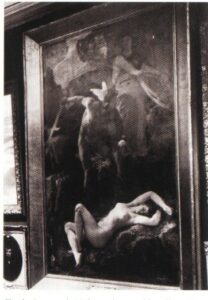 These rapid studies were preparatory to the painting The Death of Medusa, exhibited at the École des Beaux-Arts in Paris in August 1870 and now in the Musée des Beaux-Arts et d'Archéologie in Besançon (Inv. D.874.1.1).
Other preparatory studies for this large painting were presented at the 2003 exhibition in Dole (cf. for the figure of Perseus, fig. 4, p. 19 and for the figure of Medusa, fig. 1 and 1 bis, p. 10).