Jules Machard
Sampans, 1839 – Bellevue, 1900
Sketch for « Saint Cecilia Felt Divine Inspiration »
248 x 168 mm – 9 3/4 x 6 5/8 in.
Pencil, pen and black ink on tracing paper.
Stamped signature J. Machard (L. 5030) lower right.
This drawing belongs to a set of 85 drawings from the studio of Jules Machard presented by Drawings-online. Read our focus on the artist.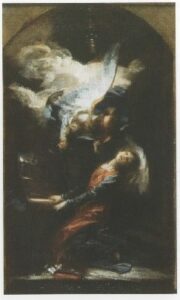 This drawing is preparatory study of the composition for the painting of the Inspiration of Saint Cecilia presented at the Salon of 1878 (purchased by Mr. Morton, the United States Minister). An oil sketch is in the Tessé Museum in Le Mans (inv. 10 1172, fig. 1).
In this sheet, Jules Machard illustrates the episode of the mystical rapture with great power: the body of Saint Cecilia is leaning towards the ground, her arms behind her, while the angel playing the organ in the background.