Ottavio Semino
Genoa circa 1520 – 1604
Saint Peter
Pen and brown ink, silhouetted and pasted on a sheet of ancient paper.
225 x 150 mm – 8 14 / 16 x 5 15 / 16 in.
Born to an artistic family from Genoa, Ottavio Semino was influenced by Perino del Vaga and worked alongside with Luca Cambiaso. He often collaborated with his brother Andrea, also a painter, and their graphic style is close. Many drawings by them are in the Louvre museum.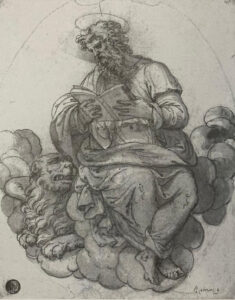 Graphically, these two drawings can be compared with many works by the artist, the most interesting comparison being with two drawings representing Saint Mark evangelist, one in the Gallerie dell'Accademia in Venice (Fig. 1), the other in the Louvre (Inv. 10258). Both our drawings were silhouetted and pasted on paper; they are probably drawn patterns for figures of apostles or evangelists represented on embroidered pieces adorning liturgic textiles, such as the procession canopy in the Genoa Museo Diocesano. Semino frequently painted this type of religious figures, seated evangelists or apostles in pendentives or cartouches, in the decorative works he executed for many churches of Genoa, Milan or Savona.
Condition report – silhouetted and pasted on a backing sheet. Some tears in the edges. One tear in the hair and aureole.