Domenico Maria Bonavera
Bologna 1653 – 1731
Penitent Saint Peter
Signed Bonavera F. lower left with pen and brown ink.
Old mount with paper strips. Inventory numbers N. 124 and OL, probably in relation to mark 4R93 inscribed on the mount lower right.
Pen and brown ink.
191 x 147 mm – 7,52 x 5,79 in.
Provenance – Sir Charles Bagot, (Lugt 493); "Conte di Bardi" (Lugt 336); Christie's London, 17 Decembre 1998, lot 133; collection Barbara Piasecka Johnson; private collection.
Bibliography – Mistrzowie rysunku : dzieła z kolekcji Barbary Piaseckiej-Johnson, exhibition catalogue, Warsaw, 2010.
Published several times with a wrong attribution to the Spanish artist Pedro Atanasio Bocanegra, this drawing is in fact by the Bolognese engraver Domenico Maria Bonavera, who trained with his uncle Domenico Maria Canuti.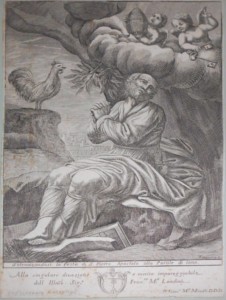 In 1670, Bonavera engraved the plates in Notomie di Titiano – whose authorship is not trusted to be true anymore – drawing his inspiration from De humani corporis fabrica (Basel, 1543) and the tabulae anatomicae sex (Venice, 1538) both by Andrea Vesalio. He also made prints after Guercino.
The hands joined in supplication and remorse may have been borrowed from Guido Reni's various interpretations of the subject, amongst which his 1635 Penitent Saint Pierre in the Hermitage Museum in St-Petersburg, but this gesture also reminds of a painting of the same subject by Giuseppe Vermiglio (art market).
Our drawing represents the saint in full-length, sitting in a landscape, the keys of paradise at his feet. It is probably a first thought for the engraving, which bears the same signature. Bonavera kept the initial ideas of the reclining Saint sitting in a cavy landscape with a city in the background but added the rooster and the angels holding the miter and the keys. The drawing conveys a stronger sense of pathos than the print, which was executed at the occasion of Saint Peter's festival. The artist may have added the saint's religious attributes in order to make a more formal image. This drawing will maybe help to identify other sheets and to understand better Bonavera's artistic identity.
Perfect condition. Fresh ink. The sheet is laid down on the mount, inscribed by collector Charles Bagot.