Giovanni Guerra
Modena, 1544 – Rome, 1618
Priests talking to soldiers
Pen and brown ink, brown wash.
115 x 73 mm – 4 1/2 x 2 7/8 in.
Provenance – Paris, Beaussant-Lefevre sale, February 11, 2022, No. 191 ; Paris, Jacques-André and Colette Ulmann collection, their stamp (L. 3533) verso lower right; Paris, Laura Pêcheur Gallery, 2003; Châtellerault, Chavaillon collection sale, May 31, 2003, n° 40
Born in Modena in 1544, Giovanni Guerra went to Rome at a very young age in 1562, where he is mentioned by Giorgio Vasari as "Giovanni Modenese", and became a member of the Accademia di San Luca from 1575. He established a workshop with Cesare Nebbia and together they obtained numerous papal commissions developing multiple pictorial and ornamental projects intended to decorate the Lateran Palace, that of the Vatican (the Salon of Sixtus V of the Library), the Scala Santa and the Villa Montalto. His works also bear witness to the influence of the Zuccari brothers.
Giovanni Guerra essentially drew – this medium being for him a way of developing ideas that did not necessarily need to be transposed into painting. By its format, our sheet could have been part of a sketchbook intended to illustrate a book. There are series devoted in particular to iconological figures and stories, taken from the Bible, Roman or Jewish history. Giovanni Guerra notably illustrated the Book of Esther, several preparatory drawings of which are kept at the British Museum (inv. 1975,0517.1 and 1975,0517.2), at the Ashmolean Museum in Oxford (inv. WA 1947.189) and at the Musée du Louve ((inv. 10559). According to Giovanni Baglione[1], Giovanni Guerra produced several sketchbooks, some of which were intended for engravers.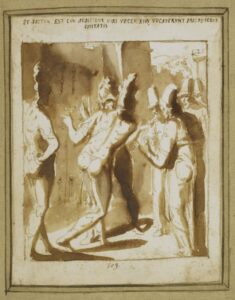 The subject of our drawing is not identified but could be compared to planche 55 (fig. 1) of the Libro de Judit[2], entitled "ET FACTUM EST CUM AVDISSENT VIRI VOCEM EIVS VOCAVERVNT PRESBYTEXUS CIVITATIS"[3] in which we find a group of soldiers speaking to priests to announce the arrival of Judith.
Condition report – Good general condition. Mounted in false margin.
[1] Giovanni Baglione, Le vite de' pittori, scultori et architetti, Rome, 1642.
[2] Giovanni Guerra, Livro de Judit, 134 drawings, 1606 (Inv. ND623 G937 G93, Avery Architectural and Fine Arts Library), Columbia University, New York.
[3] Book of Judith, Chapter 13, verse 14: "The guards having heard his voice called for the elders of the city."