Avanzino Nucci
Gualdo Tadino, 1551– Rome, 1629
Madonna and Child Surrounded by Saints Benedict and Francis
Pen and brown ink, brown wash, heightened in white, traces of black chalk, on blue paper.
321 x 250 mm – 12 5/8 x 9 13/16 in.
Provenance – Marquis C. de Valori (Lugt 2500); Paris, sale Étude Thierry de Maigret, 25 March 2015, lot n° 85; Paris, Nathalie Motte Masselink gallery, 2019 ; private collection.
Born in Gualdo Tadino, near Perugia, Avanzino Nucci went to Rome at an early age to study with Niccolo Circignani, called Il Pomarancio. Between 1595 and 1599, Nucci stayed in Naples where he painted a fresco cycle depicting the history of the Carthusian order for the monastery of San Martino in 1596 and participated with Belisario Corenzio in the decoration of the sacristy of Santissima Annunziata Maggiore in 1598. Back in Rome, Nucci worked on numerous commissions for altarpieces and frescoes, notably for the churches Santa Maria in Aracoeli, San Silvestro al Quirinale, Sant'Agostino and San Giuseppe dei Falegnami.
Philippe Pouncey was instrumental in rediscovering Nucci's work by ascribing to him a group of some fifty drawings assembled under the provisional name of « Pseudo Bernardo Castello ».[1] The artist favored the use of pen, brown ink, and brown wash heightened with white on blue and grey-green paper (see examples in the Louvre: Saint Lucy,[2] Aeneas presenting himself to the Underworld,[3] and Apparition of the Virgin and Child to St. Charles Borromeo and St. Martha,[4] and in the Metropolitan Museum of New York: The Mystic Marriage of Saint Catherine of Alexandria). [5]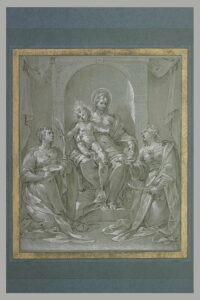 Our sheet depicting a Holy Conversation contains elements typical of Avanzino Nucci's manner: the drapery revealing the sculptural volumes of the bodies, the long-fingered hands, the thick contours, the edging around the fabrics, and the use of tight hatching in the recessed areas (to create the niche behind the Virgin).  It compares particularly well with Saint Lucy and Saint Agatha kneeling before the Virgin and Child[6] (Fig. 1) by the posture of the Virgin, her gentle face gazing downward to the right and the neckline of her buttoned dress.
Condition report – Small spots on the whole sheet.
[1] By demonstrating the relationship between the Study of a Kneeling Man (Kupferstichkabinett, Staatliche Museen zu Berlin, inv. KdZ15505) and the painting St Silvester Baptizing the Emperor Constantin (in the Church of   San Silvestro al Quirinale in Rome).
[3] Louvre Museum, inv. 4513.
[4] Louvre Museum, inv. 1061. Cf. Roman drawings of the Sixteenth Century from the Musée du Louvre, Paris, The Art Institute of Chicago, 4 october 1979 – 6 january 1980, notice n° 34.
[5] The Metropolitan Museum of Art, New York, inv. 1971.221.2.
[6] Louvre Museum, inv. 10059. Cf.  Dessins du XVIe au XVIIIe siècle : LXVIe exposition du Cabinet des dessins, Musée du Louvre, Paris, 9 June – 18 September 1978, entry 71.