Jean-Pierre Norblin de la Gourdaine
Misy-sur-Yonne, 1745 – Paris, 1830
Market in Poland
Pen, black ink and watercolour.
90 x 174 mm – 3 9/16 x 6 7/8 in.
Signed and dated, in pen and black ink, upper left: D: f 1794.
On the back of the montage, inscription in pencil: NORBLIN DE LA GOURDAINE/ Marché en Pologne.
Provenance: Stamp lower left MMC unidentified; Alfred Normand (1910-1993), his stamp (L. 153c) on the back; unidentified stamp on the mount lower right.
Born in 1745 in Misy-sur-Yonne, Jean-Pierre Norblin de la Gourdaine began his apprenticeship in 1763 in the studio of Jacques-Philippe Caresmes. He was then with Francesco Casanova in 1765 and at the Royal Academy of painting and sculpture where he obtained, in 1771, the Grand Prix of painting. Protected by the Czartoryski and Radziwill families, Norblin de la Gourdaine settled in Poland, married there and received, in 1785, the title of painter to the king and letters of Polish nobility. He met with great success in his adopted country where he founded his own art school, exercising his talent in a wide variety of genres, creating large decorations, paintings, watercolors and engravings. Among his main works is the execution of frescoes for the residences of the Czartoryskis in Pulawy and Warsaw, as well as in Powazki for Princess Izabella Czartoryska. Witness to many important historical events, he immortalizes them in painting. Considered one of the most important painters of the Polish "Siècle des Lumières", his style reflects the influence of the painter Watteau and develops on two axes: the tradition of rococo and garden party on the one hand, and an accurate representation and quasi-journalism of everyday life and political events. On his return to France, after having spent thirty years in Poland, he continued to draw, illustrating in particular the Napoleonic wars.
Our drawing is signed, top left, and dated 1794, the year in which Jean-Pierre Norblin was in Poland. He quickly draws, in pen and black ink, a market scene in the square of a Polish village, adding a few touches of watercolor to animate it.
This sheet can be compared to a series of city views produced by the artist, some of which are kept in Krakow, such as the Market in a City (fig. 1)[1]. An excellent observer, Norblin sketched the Polish towns he visited, paying particular attention to the life that unfolded there, illustrating with pleasure the markets, fairs, outdoor games and dances. He thus creates works full of movements, events and customs captured on the spot: fairs or village party being one of his favorite subjects such as The Leczna Fair[2] or The Village party[3]. Among Norblin's drawings, those devoted to the theme of the genre predominate and the vast majority – around 700 sheets – come from the Czartoryski collection, now kept at the National Museum in Krakow.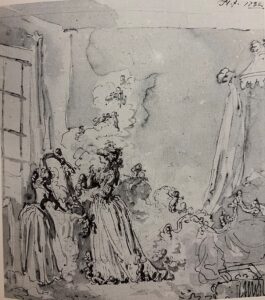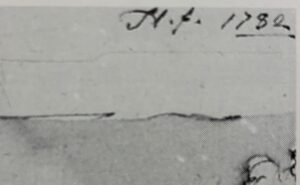 This way of writing his monogram and a date on the top of the sheet is common with Norblin, as it appears on The woman in front of her mirror (fig. 2 and 3)[4].
Condition report – Very good condition.
[1] Krakow, Nationalmuseum, Inv. MNK XV-Yr.-1224.
[2] Krakow, Nationalmuseum, Inv. MNK XV-Yr.-963.
[3] Krakow, Nationalmuseum, Inv. MNK XV-Yr.-1001.
[4] Exhibition catalog Jean-Pierre Norblin, ein Künstler des Revolutionszeitalters in Paris und Warschau : Zeichnungen und Druckgraphik, Köln, Wallraf-Richartz-Museum, Graphische Sammlung, 7 juin-23 juillet 1989, p. 27.