François Boucher (Workshop of)
Paris 1703 – 1770
Venus with Doves
Black chalk, stumping, white chalk heightening on buff paper
391 x 296 mm – 15,39 x 11,65 in
The composition of this striking drawing on brown paper derives from The Bath of Venus (National Gallery, Washington) commissioned by the Marquise de Pompadour with its pendant, The Toilet of Venus (Metropolitan Museum, New York), to decorate her "Appartement des Bains" in the Chateau de Bellevue.
The painting has not been engraved, but the figure of the young woman with doves appears in an engraving by Jean-Baptiste Michel with the title Vénus sortant du bain while a pendant shows Vénus entrant au bain.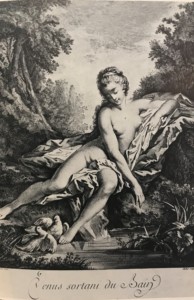 Throughout his career, Boucher maintained an extensive collaboration with engravers and was very used to reusing his painted motives in multiple painted or drawn variants intended for the trade.  
Our drawing is close to the engraving but presents significant differences: the flowers behind the young woman, the shape of trees, the absence of the bush on the left side, the slightly different hairstyle. More than a project for the engraving, it is probably a drawing executed for the art market by one of Boucher's pupils or collaborators. Boucher's strong graphic influence is clearly visible in places such as the trees on the right side or the flower bush.
The use of brown paper and strong white heightening allows to date the drawing to the last decade of the artist's and his workshop's activity.
Condition report –