Giuseppe Bernardino Bison
Palmanova, 1762 – Milan, 1844
Landscape with statue of a warrior on horseback
Brown ink wash and watercolor over traces of black chalk.
166 cm x 245 mm – 6 9/16 x 9 5/8 in.
Giuseppe Bernardino Bison was born in the Udine Region of Friuli and received his artistic training in the studio of Anton Maria Zanetti (1706-1778) in Venice. At the beginning of his career, he travelled a lot, working as a decorative fresco painter at villas and palaces around the Veneto: in particular, the decorations of the Manzoni palace in Padua, the Tironi villa in Lancenigo, the Soderini casino in Treviso. Around 1800, he settled in Trieste where among his more important works were the decoration of the Palazzo Carciotti and the Palazzo della Vecchia Borsa. In 1831, he moved to Milan, where he worked until the end of his career as a scenographer producing stage designs for the Teatro alla Scala and other theatres. He also painted numerous small landscapes in both oil and tempera, intended for sale to collectors. His earliest works show a strong influence of Giambattista Tiepolo and Francesco Guardi, while his later works tend towards Neoclassicism. He used all techniques to draw, passing from sanguine, black stone and watercolor to ink wash, while giving his drawings great inventive freedom, a sensitivity for the picturesque, a pronounced taste for the genre scenes and an interpretation of mythological and religious subjects.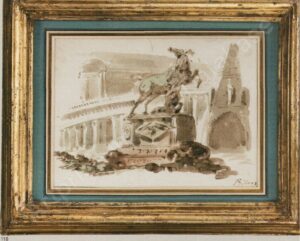 Our sheet presents a landscape with a monumental statue of a Roman warrior on a prancing horse, placed on a pedestal, in the middle, under a half-drawn arch with a colonnaded monument in the background. Another drawing by the artist illustrating an Equestrian monument in front of a colonnaded building[1] (fig. 1) could be a counterpart or belong to the same series of Capriccio by the artist. Like many of Bison's drawings, the present sheet is unrelated to any known painting or fresco by the artist and may have been executed as an autonomous work.
Condition report : good condition, small stains throughout the sheet and small hole in the lower right corner.
[1] Milan, Sotheby's sale, 20 December 2005, lot 118.