Hubert Robert
(Paris, 1733-1808)
Caryatid study
Black chalk.
180 m x 76 mm – 7 1/16 x 2 15/16 in.
Provenance – Jean de Cailleux, it's stamp (L.4461) lower left.
Born in Paris in 1733, Hubert Robert received a classical education, under the protection of the Stainville-Choiseul family, and attended the studio of the sculptor Michel-Ange Slodtz. He went to Rome in 1754 with the Comte de Stainville, appointed Ambassador of France, and attended the Academy at the Mancini Palace, where he officially became a resident in 1759. For ten years, he discovered and studied the great masters. Italians, then draws the great archaeological sites accumulating numerous sketches which will make him one of the masters of the "landscape of ruins". Back in Paris in 1765, he enjoyed great success with the personalities of the kingdom and the artistic and intellectual elite. He was appointed designer of the king's gardens in 1784, then guard of the Royal Museum from 1784 to 1792, responsible for the acquisition and presentation of works in the Louvre gallery. Arrested during the Revolution and detained in Sainte-Pélagie and Saint-Lazare prisons, he made drawings and painted landscapes and scenes from prison life on plates. In 1800, he was appointed curator of the new Central Museum.
This study of a caryatid comes from the album Ernest May, presented at the Cailleux Gallery in 1979, and corresponds to n° 61 of the catalogue (fig. 1). Jean de Cailleux dates this sheet around 1777-1780 and classifies it among the sketches of statues "of the invention of sieur Robert" recreated from memories of ancient sculptures.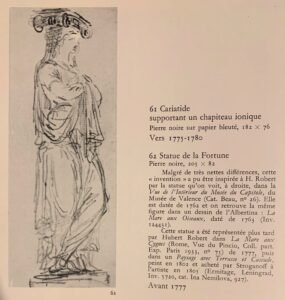 Fig. 1
Condition report – Trace of an old mount on the back, slight folds.