Jean Charles Delafosse
1734 – 1789
Two ornament projects monogrammed DCL
Pen and black ink, gray wash over black pencil lines.
212 x 146 mm and 204 x 146 mm – 8 3/8 x 5 3/4 in. and 8 1/16 x 5 3/4 in.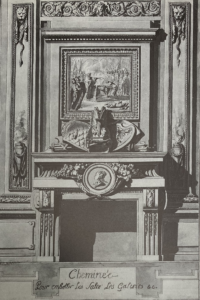 The lively and decorative style of both these ornamental projects is comparable to that of many drawings by Jean Charles Delafosse, an architect, designer and decorative painter active in numerous Parisian mansions in the 1760-80s and emblematic of the Louis XVI style.
Still underrated and overlooked, this artist drew spectacular architectural projects as well as small and witty ornament studies such as the present drawings.
The motif of the lion skin appears in a Project for a chimney nowadays in Berlin, in the Staatliche Museen Preussischer Kulturbesitz (Inv. H d.z. 4409) (Fig.1).
Our drawings could be studies of ornaments for books tailpieces, or, more likely, for ex-libris.
Condition report – good general condition.