Gaspare Diziani
Belluno 1698 – Venice 1767
The Martyrdom of Sts Felix and Fortunatus
Brown ink, grey wash over red chalk. Inscribed Seb Ricci lower left. Arched top.
376 x 285 mm – 14 13/16 x 11 1/4 in.
Provenance: Sotheby's, New York, Old Master Drawings including the collection of professor Egbert Haverkamp-Begemann, 31/01/2018, lot 150; private collection.
A pupil of Gregorio Lazzarini and Sebastiano Ricci, Gaspare Diziani is a major figure of Venetian Rococo. Except for a stay in Dresden and Munich, during which he worked as a scenery painter with Alessandro Mauro, and a stay in Rome under the patronage of Cardinal Ottoboni, the main part of his career took place in Venice. Diziani produced numerous religious decors, such as his Entry of the Christ into Jerusalem for the church of San Teodoro but was also very much sought after for the light and playful decors that he painted in many private rooms in Venetian palazzi. He was one of the founders of the Accademia di Belle Arti in Venice and a prolific draughtsman. The Museo Correr in Venice preserves about 200 of his drawings, the majority of which was gathered in one album by the Venetian bibliophile and art collector Girolamo Ascanio Molin.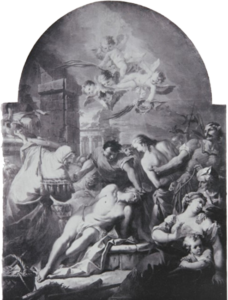 This is one of the preliminary studies, with some differences, for the painting executed by Diziani circa 1735 and located the chapel of SS Felice and Fortunato in the cathedral at Chioggia (fig.1). The painting has been dated around 1735.  Sts. Felix and Fortunatus were brothers from Vicenza who were martyred at Aquileia in 296 under Diocletian.  Two other drawings for the painting are known, one was sold at Sotheby's New York, on 23 January 2008 (lot 189) and the other, closer in details to the finished composition, is in the Nationalmuseum, Stockholm (NMH 1528/1863).
The three of them have an arched top and quite the same dimensions. They document Diziani's process of research to find his ideal composition. At this stage, he has already found some of the elements present in the final composition, although with differences: the mother and child on the foreground, the priest inciting the saints to bow down before the paien idols, the angels bringing the palms of martyrdom. The present version is alltogether elegant and expressive, Diziani's pen covering the sheet with as much grace as freedom, in a particularly rococo fashion. The paper preparation, applied with large visible brushstrokes adds movement to the expressivity of the scene.
Saints Felix and Fortunatus were born in Vicenza and they were martyrized in Acquileia in 303-304 under Diocletian. They are protector saints of Vicenza and Aquileia, but also of Chioggia where Fortunatus's body seems to have been translated in the 11th century and where they are celebrated on the 11 June.
Condition report – The sheet is fully pasted on ancient paper. A small foxing in the center of the composition, below the priest's sleeve. Excellent condition of the paper and materials.