Jules Machard
Sampans, 1839 – Bellevue, 1900
Study of the face of Mary for "The Visitation"
440 x 240 mm – 17 5/16 x 9 7/16 in.
Red chalk on beige paper.
Stamped signature J. Machard (L. 5030) lower right.
This drawing belongs to a set of 85 drawings from the studio of Jules Machard presented by Drawings-online. Read our focus on the artist.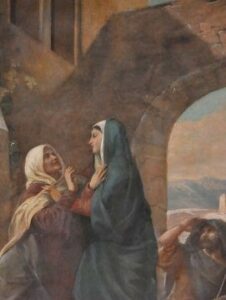 In 1875, Jules Machard was commissioned to paint large panels for the chapel of the Virgin in the church of Notre Dame de la Croix in Ménilmontant, representing four of the most important episodes in Mary's life: the Annunciation, Visitation, Stabat Mater and the Assumption. The artist only completed two panels, the Visitation and Stabat Mater, measuring six meters high and almost three meters wide, respectively in 1880 and 1882. The other two works were completed by one of his colleagues, Alphonse Monchablon (1835-1907) in 1882 (Virginie Frelin and Elisabeth Coulon, Jules Machard, le culte de la ligne, exhibition catalog, April 4 to June 15, 2003, Musée des Beaux-Arts de Dole, p. 100).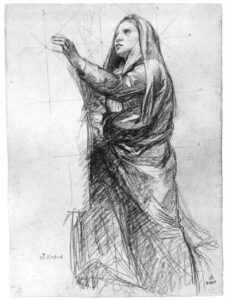 Machard made painted sketches and drawings for this entire decorative program. Our sheet is a study for Mary's face in The Visitation (fig. 1). A sketch for this painting is held at the Musée du Petit Palais in Paris (Inv. PPP 04733). Another study drawing for the figure of the Virgin is kept at the Ecole des Beaux-Arts in Paris (Inv. EBA 1226, fig. 2).