Jules Machard
Sampans, 1839 – Bellevue, 1900
Study of a reclining woman with her arms thrown upwards
295 x 395 mm – 11 5/8 x 15 9/16 in.
Black chalk and white highlights on beige paper.
Stamped signature J. Machard (L. 5030) at the bottom.
Bibliography: Virginie Frelin and Elisabeth Coulon, Jules Machard, le culte de la ligne, exhibition catalog, April 4 to June 15, 2003, Musée des Beaux-Arts de Dole, cited, p. 103.
This drawing belongs to a set of 85 drawings from the studio of Jules Machard presented by Drawings-online. Read our focus on the artist.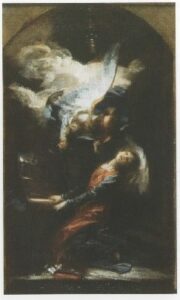 This powerful drawing is a first thought for the attitude of Saint Cecilia in the painting of the Inspiration of Saint Cecilia presented at the Salon of 1878 (purchased by Mr. Morton, the United States Minister). An oil sketch is in the Musée de Tessé in Le Mans (inv. 10 1172, fig. 1).
The beatitude of Cecilia, carried to extreme with her arms thrown upwards, palms raised to heaven, echoes Bernini's Saint Teresa, which the artist must have seen during his stay in Rome between 1866 and 1874.