Jacob van Strij
Dordrecht, 1756 – Dordrecht, 1815
Standing Young Man with a Stick
Brush and brown ink, various watercolours over black chalk.
483 x 296 mm – 19 1/64 x 11 5/8 in.
Numbered lower right : N. 37.
Watermark : Fleur de lys with a crest
Jacob van Strij or Stry, brother of Abraham, was a pupil of his father, Leendert in Dordrecht. Jacob enrolled in the Antwerp Drawing Academy for life-drawing and studied with its Director, Andreas Lens, until 1781 when Lens resigned. With encouragement from a distinguished Amsterdam collector and dealer, Danser Numan, Jacob returned to Dordrecht to become a "ranking" Dutch landscape painter. While his brother Abraham specialized in genre scenes, Jacob gained a reputation as a painter of landscapes and pastoral subjects; works which were particularly indebted to the example of the 17th century Dordrecht painter Aelbert Cuyp, whose style he could imitate quite closely.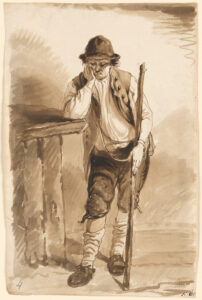 A gifted draughtsman and etcher, Jacob produced several fine figure drawings, pastoral subjects and landscapes in watercolour. Most of his graphic work that are brush drawings executed in brown ink, depict figurative scenes, predominantly single figures shown in a portraitist manner. Our drawing can be compared to several sheets : Young man with staff[1] (fig. 1, inv. 2009.305 New York, Morgan Library) ; Study of a young girl sleeping[2] (Bergues, Musée du Mont-de-Piété) ; A standing man seen behind from behind[3] (New York, Christie's, 28 janvier 2000, n° 124) ; Young boy kneeling[4] (Paris, Christie's, 21 novembre 2007, n° 67).
Condition report – Good general condition. Small crease at the bottom let of the sheet.
[1] 341 x 222 mm ; Brush, brown ink over pencil lines.
[2] Cf. De Heemskerck à Le Brun: les plus beaux dessins du musée du Mont-de-Piété de Burges, 2012, n° 30.
[3] 314 x 159 mm ; Brush, brown ink and gray wash.
[4] 190 x 140 mm ; Pen, black ink and gray wash.