Richard de La Londe
Active around 1770-1800
Profile view of a draped four-poster bed with female busts
Pencil, pen, black ink and watercolor.
268 x 152 mm – 10 9/16 x 5 15/16 in.
Numbered 10 at the top.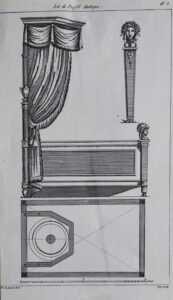 French draughtsman and decorator, active in Paris in the years 1780-1790, Richard de La Londe made many drawings of furniture and works of art which were widely distributed by engraving, notably in Œuvres divers de Lalonde decorator and draftsman containing a large number of drawings for the interior decoration of the Apartments in the image of Painting and Sculpture in ornaments. Furniture of the newest taste. Goldsmith's and Locksmith's Parts etc. (Paris, at Chéreau, 1780).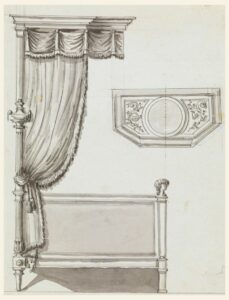 We can compare our drawing to an engraving Lit de Profil Antique, n°2 by Jean-Baptiste Fay after a drawing by Richard de La Londe. Another drawing (fig. 1) in the Cooper Hewitt Museum in New York (inv. 1921-41-63). Other examples of bed profiles designed by Richard de La Londe have been engraved in the Ier Cahier du Livre d'Ameublements designed by La Londe, A as in Lit à la Duchesse, Lit à trois dossiers, Imperiale and details (London, Victoria & Albert Museum, inventory E.25-1915)
Condition report – some damp spots.