Bartolomeo Pinelli
Rome, 1771 – 1835
Praying Penitents
Watercolour over black chalk.
235 x 301 mm – 9 1/4 x 11 7/8 in.
Signed and dated with pencil : Pinelli fece 1814 Rome.
Inscribed : Penitenti nominati Sacconi facendo la Via Crucis nell interno di un Cemeterio in Roma.
Trained by his father, a sculptor of figures for cots, Bartolomeo Pinelli followed his apprenticeship in Bologna and then in Rome at the Accademia di San Luca, collaborating from 1799 with Franz Kaisermann by painting the figures of his landscapes in watercolour. He quickly gained fame as a draughtsman and engraver, producing illustrations for various publications of Virgil, Dante, Tasso and Cervantes. Described as the painter of the Roman people, Bartolomeo Pinelli produced numerous watercolours depicting the activities and events of daily life[1].
Our drawing is a preparatory study for the firt plate (fig. 1) entitled La Via Crucis dentro un Cemeterio de la Raccolta di dodici motivi di Costumi Pittoreschi di Roma incisi all'acqua forte da Pinelli Romano dedicati alla Siga Ortenzia Lescot, Pittrice, Roma, 1813.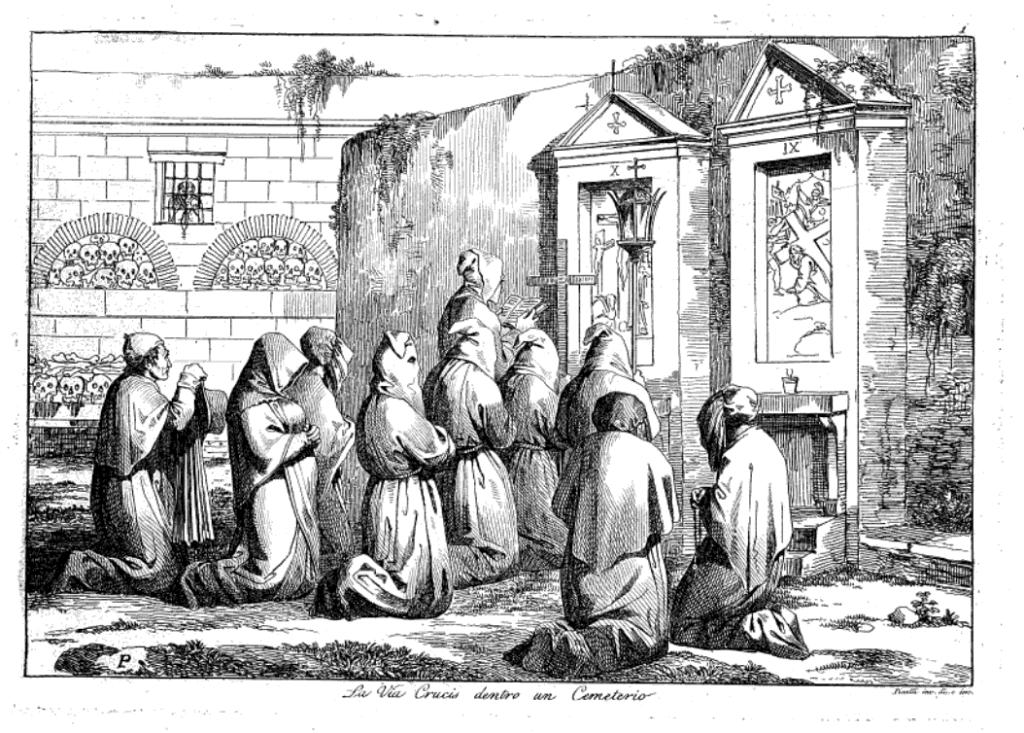 We note some small differences between the drawing and the engraving, particularly in the arrangement of the kneeling penitents – and especially in the attitude of the last man on the left, who in the engraving is wearing his hat in his hand. Similarly, a processional lamp in the centre of the composition has been removed and the instruments of Christ's passion on the wall above the bones have been replaced by a grilled opening in the final engraving.
This composition depicts a religious tradition that was highly developed in the nineteenth century during the last days of Lent, when believers would go in procession along the Via Crucis or 'Way of the Cross' to relive the events of Christ's passion in various places in Rome. As the title under the drawing indicates, Pinelli represents penitents of the Confraternity of the Sacconi or devotees of Jesus Christ on Calvary and of Our Lady of Sorrows in aid of the holy souls in Purgatory, founded in 1760 to meditate on the passion of the Redeemer.
Bartolomeo dedicated the 12 etchings depicting the picturesque costumes of Rome to the French painter Hortense Haudebourt-Lescot, who stayed in Rome at the Villa Medici from 1808 to 1816, together with her master Guillaume Guillon Lethière, director of the Académie de France in Rome.
Condition report – Perfect state of conservation.
[1] He published, as early as 1809, 52 plates illustrating contemporary Roman life : Raccolta de' costumi romani (cf. M. Apolloni, Bartolomeo Pinelli e il suo tempo, Rome, 1983, p. 269-78)