Jules Machard
Sampans, 1839 – Bellevue, 1900
Portrait of Madame Machard, Ernestine Aléo
324 x 250 mm – 12 3/4 x 9 13/16 in.
Red chalk on beige paper.
Stamped signature J. Machard (L. 5030) lower right.
Bibliography: Virginie Frelin and Elisabeth Coulon, Jules Machard, le culte de la ligne, exhibition catalogue, 4 April to 15 June 2003, Musée des Beaux-Arts de Dole, repr. n° 25, p. 111-113.
This drawing belongs to a set of 85 drawings from the studio of Jules Machard presented by Drawings-online. Read our focus on the artist.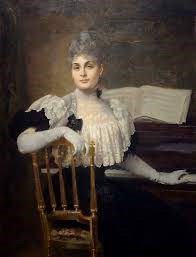 This drawing is a study for the painted portrait of his wife purchased by the State for the Musée du Luxembourg in 1897, now in the Musée des Beaux-Arts in Arras (fig. 1, inv. D 929.1). Ernestine Aléo, born in Cuba in 1852, married Jules Machard on 2 October 1875: tall, slender, with large, velvety black eyes that testify to her Havana origin.
In this quick study, Jules Machard sketches the features of his wife with a slightly haughty and severe air that he will soften in his final painting, to let only a hint of mystery shine through.