Alexandre-Joseph Desenne
Paris 1785 – 1825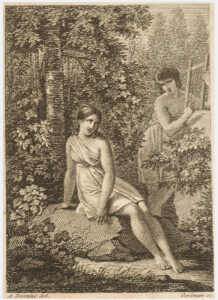 Daphnis et Chloé
Pen and brown ink. Inscribed with pencil A. Desenne on the verso.
73 x 51 mm – 2 7/8 x 2 1/64
With the engraving by Dortman.
This small but very refine little drawing is probably preparatory to an illustration for Daphnis and Chloe, an ancient Greek novel attributed to Longus (second or third century AD), which describes the progress of love between a young boy and girl who, both abandoned at birth and adopted by shepherds, finally turn out to be of noble origin. The novel was widely known by the 17th century and was translated many times during the 18th century, inspiring and nurturing the genre of pastoral novel. The story was also adapted for ballet by composer Maurice Ravel and choreographer Michel Fokine in 1912, by Jean-Claude Gallotta in 1982 and, even more recently in 2014, by Benjamin Millepied.
Son of a bookseller, Alexandre Joseph Desenne was a self-taught draughtsman who specialized in books illustration. The author of numerous vignettes for Voltaire, Rousseau Molière, Boileau, Bernardin de Saint-Pierre, Walter-Scott, Lamartine, Cervantes, Chateaubriand, Camoëns, he was also a painter.
The Comte de la Bedoyère owned many of Desenne's drawings, notably the ones preparing the illustrations of Lettres à Émilie (Demoustier, 1792), Manon Lescault (Abbé Prévost, 1818 edition) and Les Oeuvres de Molière (Paris 1822). He also possessed a great number of Desenne's engraved vignettes for various books.