Frederik Ludvig Storch
Kerte (Funen) 1805 – Copenhagen 1883
Fairies dancing around a Child asleep by the doors of an enchanted palace
Black pencil and white heightening on beige prepared paper.
500 x 660 mm – 19 11/16 x 25 15/16 in.
A Romantic artist from Denmark, Storch first studied theology like his father who was a church minister, but also studied art at the Fine Art Academy and drawing school. In 1826, he took part in the Danish official exhibitions held in the Royal Palace of Charlottenburg, in Copenhagen, and exhibited a painting depicting The Death of Oscar (Copenhagen, Statens Museum for Kunst), a theme that testifies to his taste for Ossianic subjects. In 1832, he settled in Munich where he remained twenty years, actively participating in German artistic life and exhibitions. He also bonded with Danish artists gathered in Bavaria in a small colony, such as Christian Holm, Niels Simonsen and Christian Andreas Schleisner. During these years, he sent only two paintings to the official exhibitions of Charlottenburg in 1843 and 1844 but they gained him a scholarship which enabled him to travel to Italy around 1845-46. This trip inspired him a few picturesque paintings of Italianate subjects which were very successful. Back in Denmark in 1852, he was made an agrée at the Royal Academy and he earned his life as a portrait painter. Storch became also very interested in subjects drawn from Scandinavian folklore, such as The Little Mermaid (Christie's, 17 June 1999, lot 206) Count Otto of Oldenburg et the Oldenburg Horn (Statens Museum for Kunst) or else, Heimer and Aslaug (unknown location).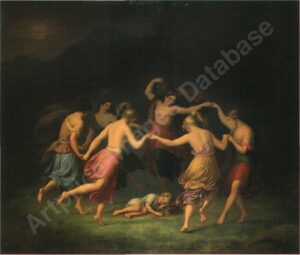 This large composition can be compared to The Dream or Nymphs dancing around Sleeping Love (London, Christie's 12 February 1993, lot 56; fig. 1), a painting which represents a similar subject of a sleeping child surrounded by dancing fairies or nymphs. The artist's taste for dreamlike themes appears in many other paintings such as A Man dreaming in a forest landscape (Bruun Rasmussen, 28/11/1996, lot 589), which shows a similar subject of a sleeping man surrounded by fairies and A Violonist listening to the Sounds of Nature (Bruun Rasmussen, Copenhagen, 5/03/1997, lot 357), in which the sounds of nature are represented under the features of fairies, giants, elves, and pixies. This taste seems to have become stronger after his return to Denmark, where he probably developed an interest in vernacular legends and myths, made famous by his contemporary and compatriot writer Hans Christian Andersen (1805 – 1875). In our drawing, fairies form a protective halo around the child, who is asleep alone in the mountains. On the right-hand side, a shimmering palace opens in the rock between two twisted columns. We have not been able to identify the tale or mythologic episode illustrated her, but it is worth noticing that in this kind of subjects the artist is still very much indebted to Girodet's Ossianic paintings and drawings, works he must have known at least through lithographs and whose effects – strong light contrasts and accumulation of figures – he seems to be found of.