Louis Jean François Lagrenée
Paris 1725 – 1805
A Female Nude Standing in Profile, Holding a Drapery
Red chalk counterproof, heightened with red chalk, brush and brown wash, black chalk.
Signed Lagrenée lower right.
625 x 375 mm – 24 5/8 x 14 3/4 in.
Provenance – Artcurial, Paris, 23 mars 2017, lot 50.
This sheet is a counter-proof reworked by the artist. It was made by pressing a humidified sheet against an initial red chalk drawing to obtain its reversed image by transfer. The original drawing by Lagrenée, although it is not localized nowadays, relates to a series of male and female academies (anatomical studies) made to be engraved by Louis-Marin Bonnet. These prints have been studied and catalogued by Jacques Hérold who enumerated about thirty of these nude studies engraved after original drawings by Lagrenée (see Louis Marin Bonnet (1736-1793). Catalogue de l'œuvre gravé, Paris, published by the Société pour l'étude de la gravure française, 1935).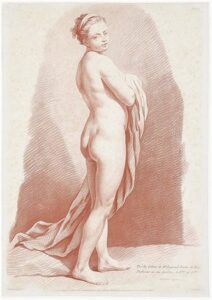 This sheet is precisely the counter-proof of the « twelfth female academy » (fig. 1) catalogued by M. Herold (n° 71).
Lagrenée signed this counterproof with pen and ink above the inversed initial signature in order to make it visible. The counterproof technique often resulted in a fainter reversed image and in eroding the original drawing: therefore, the artists sometimes had to rework over both. This is what happened here: to heighten the image, Lagrenéee went back over the outlines of the figure with red chalk and over the drapery with brown wash. He also added black chalk in the figure's eyes to intensity her glaze and make it more real. In his study on Lagrenée, Marc Sandoz mentioned how his teacher at the Académie Royale, Carle Van Loo, could have influenced him in these anatomical studies. But it is maybe from Charles Natoire, director of French Academy in Rome, that Lagrenée learnt how to enhance the glance of his red chalk nude figures by using black chalk, a trick Natoire also used (see for instance his Study for the Figure of Pan).
The fact that the sheet was lavishly reworked and signed in the right direction gives indication as to its destination: of large dimensions and a pleasant and decorative subject, it was undoubtedly meant to be sold to amateurs.
One of the most important French artists of the second half of the 18th century, Louis Lagrenée perfectly illustrates the transition from the decorative and frivolous style often called rococo to a graver style marked by the influence of Antique subjects, usually designated as Neo-classicism.