Théodore Gudin's romantic Normandy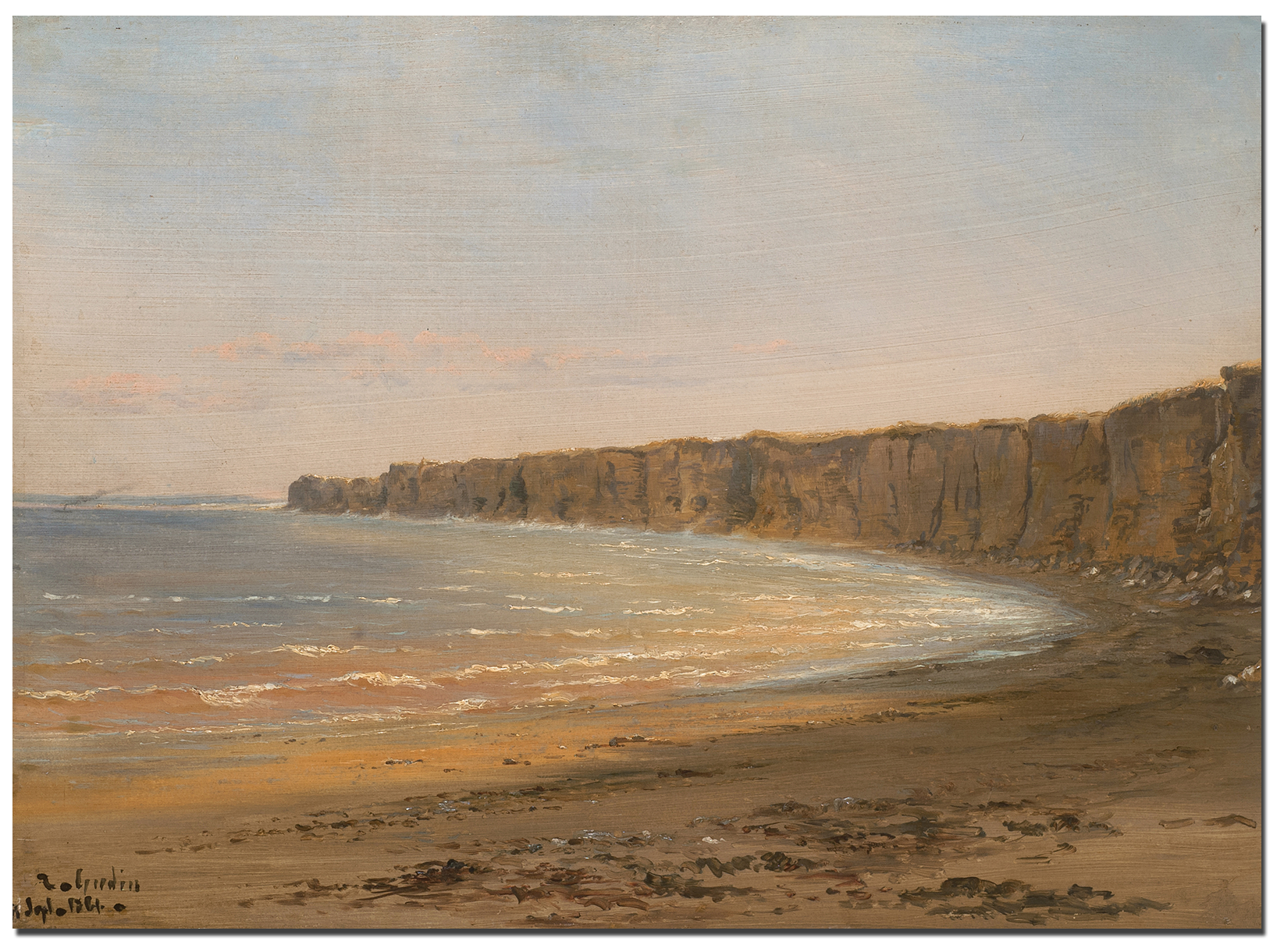 As a foretaste of the portfolio to come, which will be entirely dedicated to oils on paper, April's focus takes us to the Alabaster Coast for a breath of sea air, much needed during these times of confinement.
---
"I had always wanted to be a painter or a sailor"
wrote Théodore Gudin in his Souvenirs (Souvenirs du baron Gudin, peintre de la marine (1820 – 1870), ed. Edmond Béraud, Paris, 1921, p. 25). It was his destiny to become both, first a sailor, then a painter, which proved to be a chance since, in his own words, "to paint the sea, you have to have sailed" (p. 34).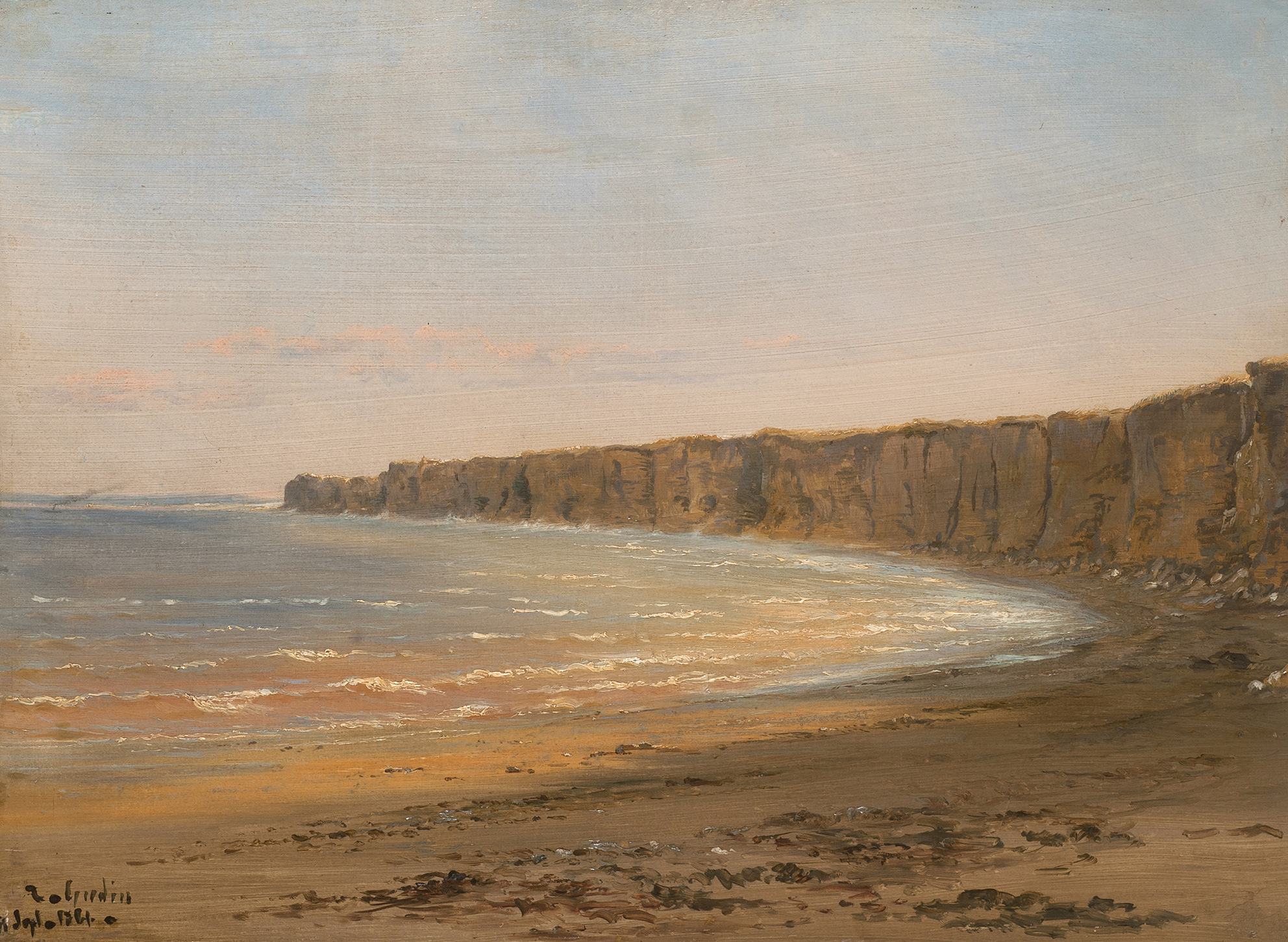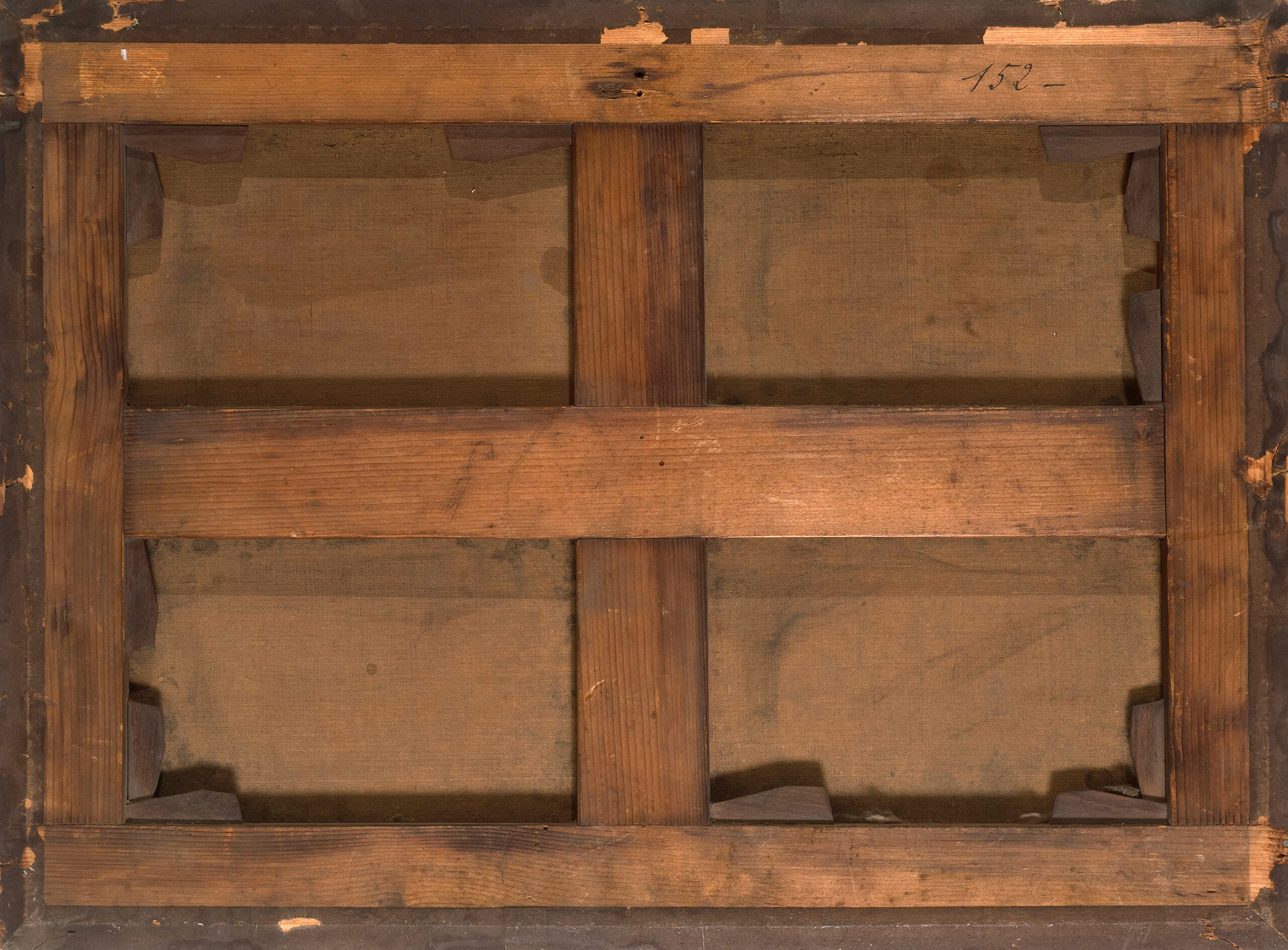 Théodore Gudin
(Paris 1802 – Boulogne-sur-Seine 1880)
Cliffs of the Alabaster Coast
Oil on paper laid down on canvas, signed and dated t. Gudin sept. 1861 lower left
Numbered 152 on the stretcher
370 x 505 mm – 14 9/16 x 19 7/8 in.
---
Like his brother Louis, Théodore showed an early and natural disposition for drawing but his mother, the widow of an Empire general, could not afford to provide both her sons with artistic studies. Louis having chosen to become a painter, Théodore decided to embark for three years on the American brick The Manchester. After a stay in New York where he met with general Lallemand and Jérôme Bonaparte, he took part in rough cod fishing in Newfoundland. Escaping yellow fever, he finally came back to France and decided to try painting. He entered Girodet's atelier, joined Gros's a few years later and "thought he had to give up classical traditions to join the Romantics" (p. 33). A winner of the gold medal as early as his second appearance at the Salon, in 1824, then unanimously praised for his Burning of the Kent at the 1827 Salon, this "simple young man, silent, apparently carefree of the attention of which he [was] rightly the subject" quietly worked his way to remarkable success in the artistic world and in society (Journal intime de Cuvillier-Fleury, la famille d'Orléans au Palais- Royal, 1828-1831, Paris, Plon-Nourrit, 1900-1903, t. I, p. 5).
He was appointed first painter of the Royal Navy and participated in the Algiers expedition of 1830, then in 1844, received from Louis-Philippe the commission to illustrate the naval history of France in 97 paintings for the Museum of French History in Versailles. He continued to excel in seascape, landscape, naval scenes or shipwrecks, for which he was compared by art critics to Claude Lorrain or Joseph Vernet. He made a place for himself in the world of the European aristocracy, was granted the title of Baron by Louis-Philippe to whom he was very close, and came to lead unofficial diplomatic missions in the Netherlands, Russia and Germany. However, his success in society aroused a certain suspicion of the artistic world, which no longer appreciated his painting in the same way, perhaps attributing the success of his artistic career to his connections.
And yet his fine execution, his careful observation of the sea, and his sensitivity, which combined romantic impulse with tranquility, are outstanding and particularly noticeable in his small-size studies, like the present sheet, in which the artist's spontaneity competes with his technical skill. Normandy had a strong attraction for Gudin, as well as for Isabey, Bonington, Delacroix and Paul Huet. Its wild coasts, harsh climate and contrasting luminosity, as well as its strong and tough people, described by various writers, beginning with Maupassant, instilled the taste for the picturesque in the romantic generation of painters. In his Souvenirs, Gudin recalls his many trips with the Duchess of Berry to Dieppe and the surroundings, which became "his favourite place to stay" (p. 42). In this lovely oil on paper, Gudin brilliantly rendered the softness of the morning light, rosy in the hollow of the waves and in the crests of the clouds, shifting to yellow in the shallower, chalky part of the sea and to bluish in the wave-battered. The skillful balance between the warm pink, orange, and yellow tones and the cold tones of blue allows him to marvelously depict the cool and humid atmosphere of a summer morning on the cliff-fringed coast of the Normandy. A small steamboat appears far away in the background with a trail of billowing smoke in the sky. This picturesque detail evokes sea transportation between England and France, frequent and essential at the time and often described in romantic literature, particularly by Victor Hugo.
---