Sweetness and poetry in this charming study of maternal love by Théodore Chassériau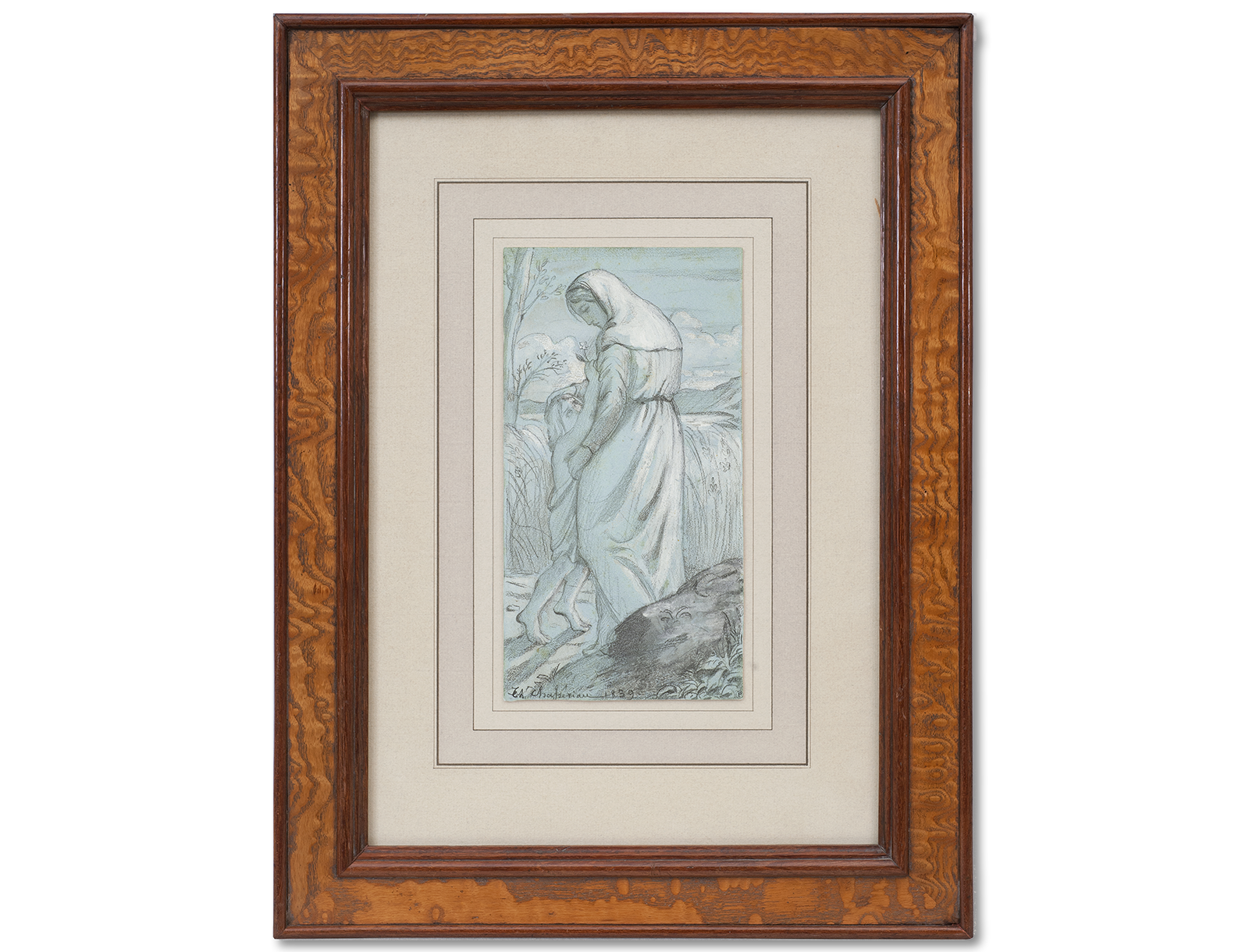 ---
« Chassériau's graphic works seem to us today the expression of a personality as skilled as original, multifaceted as well as fruitful. What is striking in them above all, is the very particular poetry that emanates from the least of his figures, accentuated by the elegance of the line »[1].

These words, penned by Louis-Antoine Prat, illustrate perfectly the impressions felt in front of this drawing, which for a time, belonged in his collection.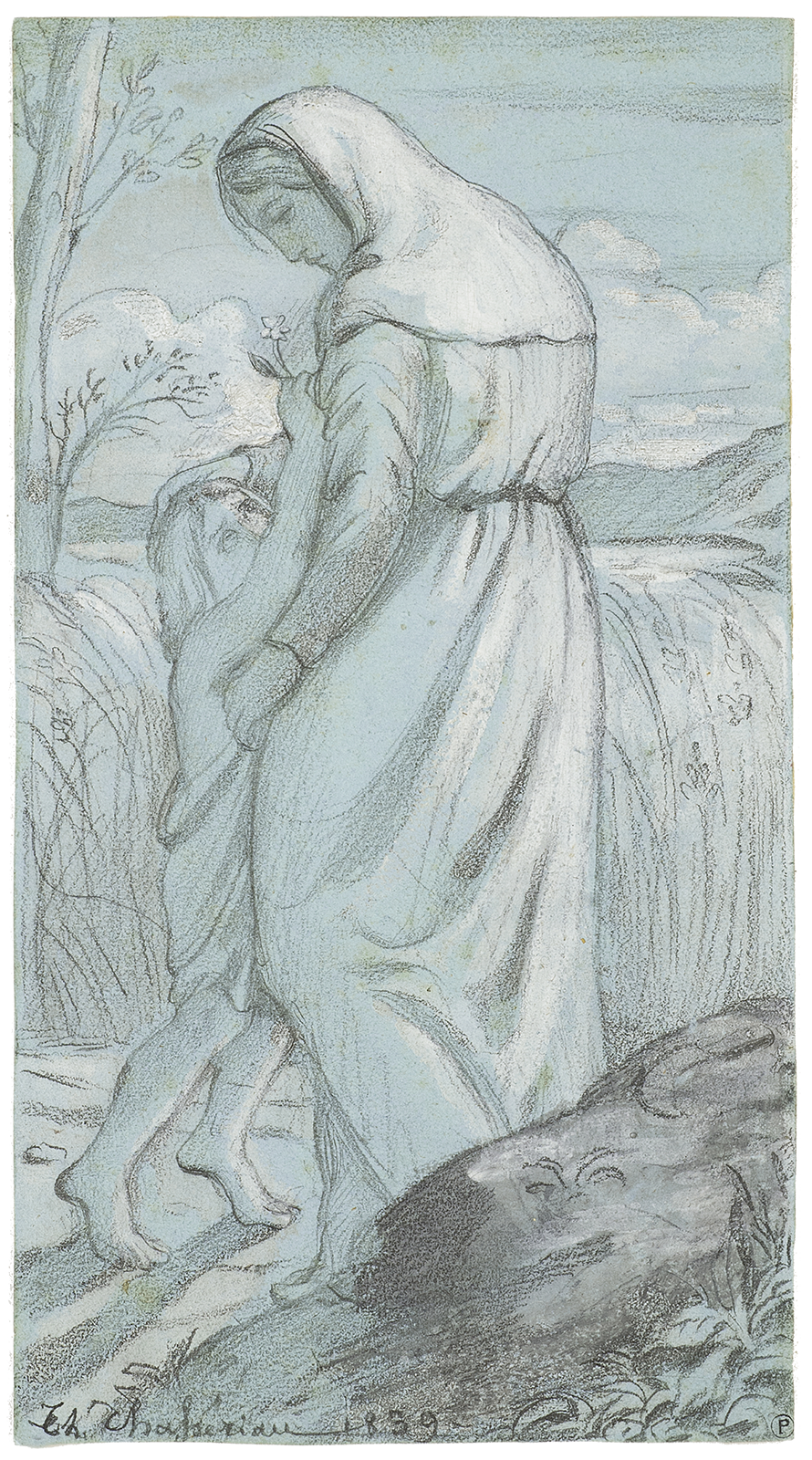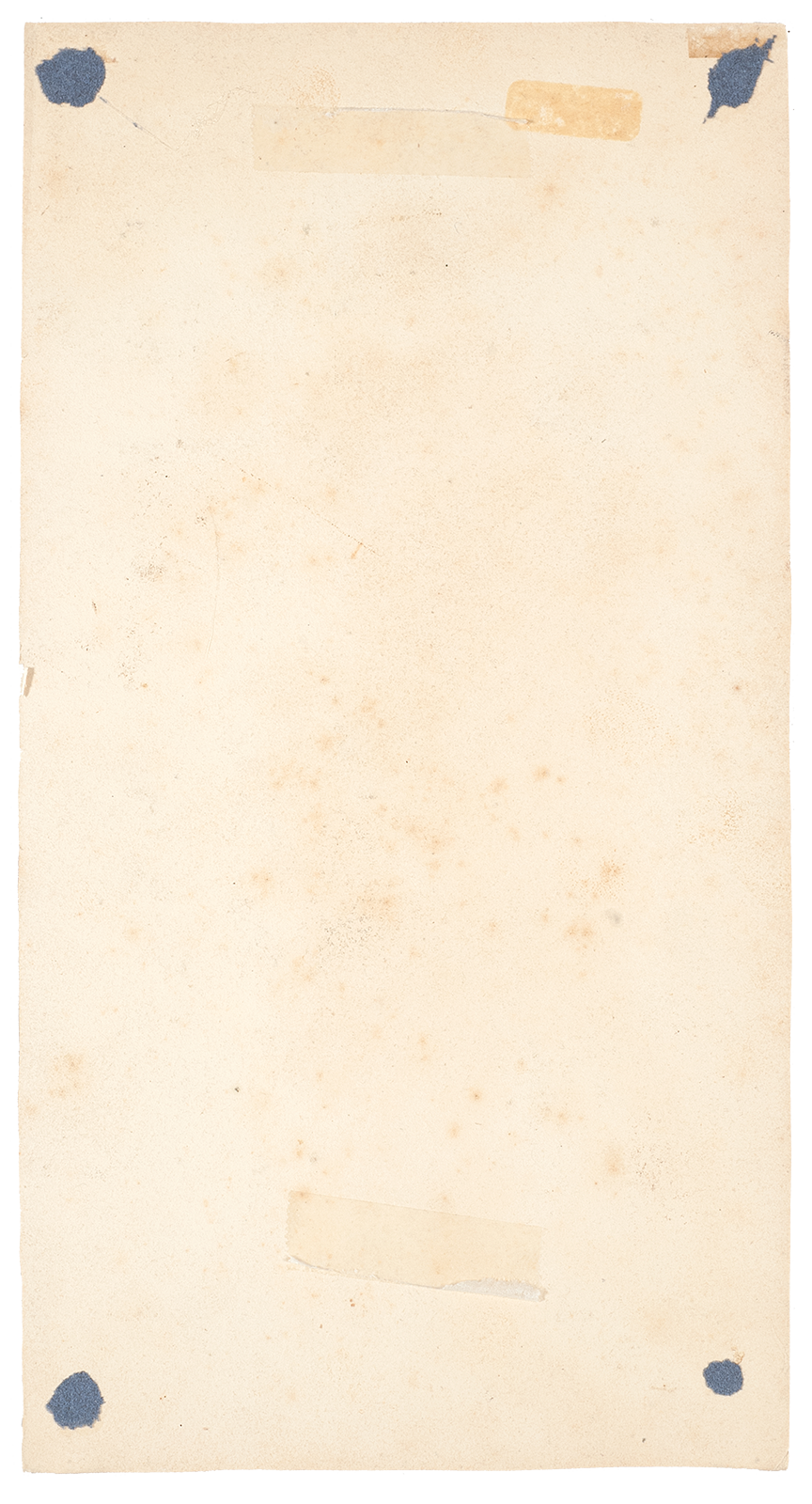 Théodore Chassériau
Santa Barbara de Samana, 1819 – Paris, 1856
Child Holding out a Flower to his Mother
Inscribed on recto lower left Th. Chassériau 1839.
Lead pencil heightened with white gouache on blue paper.
210 x 113 mm – 8 1/4 x 4 1/2 in.
Provenance – Pierre Bérès, Paris, 1976 ; Paul Prouté S.A., Paris, 1977 ; Louis-Antoine and Véronique Prat, Paris, inventory n° 1729, from 1977, their collector's mark (Lugt 3617) recto lower right ; Galerie de Bayser, Paris, 2017 ; Private collection.
 Exhibitions – De main de Maître. Masterful Studies. Three Centuries of French Drawings from the Prat Collection,cat. by Pierre Rosenberg, National Academy of Design, New York, 1990-1991, Kimbell Art Museum, Fort Worth, 1991, National Museum of Canada, Ottawa, 1991, p. 200-201, n ° 83 ; Dessins français de la collection Prat. XVIIth, XVIIIth, XIXthcat. by Pierre Rosenberg: The Louvre, Paris, 1995, Scottish National Gallery, Edinburgh, 1995, Ashmolean Museum, Oxford, 1995, p. 176-177, n ° 71.
Literature – Louis-Antoine Prat, Drawings by Théodore Chassériau (1819-1856)The Louvre, Department of Drawings, General Inventory of drawings, Paris 1980, cited under n ° 1729 ; Louis-Antoine Prat, Théodore Chassériau (1819-1856), Dessins conservés en dehors du Louvre, Cahiers du dessin français, n° 5, Paris, 1988, n° 39.
---
The artist Théodore Chassériau, recognised as one of the great exponents of the Romantic era, died young from tuberculosis at the age of 37. Son of a French diplomat whose consular activities had taken him to the Caribbean, the young Théodore, born of a Creole mother, lived on the island of Saint-Domingue for only a short time, travelling to Paris at the age of three. Chassériau demonstrated a taste for drawing when very young and in 1830, aged eleven, he entered Ingres' studio in the École des Beaux- Arts de Paris. When Ingres left for Rome in 1835, appointed director of The French Academy, Chassériau, still too young, continued his apprenticeship in Paris. He began presenting works at the Salon in 1836 and met with great success in 1839 for his Suzanne au bain and Vénus Anadyomène (The Louvre, Paris, inv. RF 410 and RF 2262), which were particularly admired by critics. Chassériau spent time in Rome between 1840 and 1841 in the company of the painter Henri Lehman. Renowned for his numerous portraits, his decorations of Parisian churches (Saint-Merri, Saint-Roch and Saint-Philippe du Roule), his large decorative cycle for the Cour des Comptes (destroyed in 1871 during the Commune, surviving fragments are kept in The Louvre), Chassériau embodies a very personal romanticism, built by virtue of the memory of line initiated by his master, Ingres, and an engagement with a shimmering palette prompted by a trip to Algeria that brings him closer to the colourful compositions of Delacroix.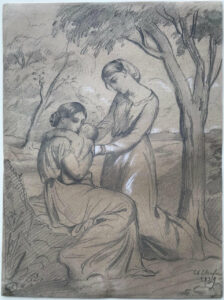 Our drawing, signed and dated 1839, was made at the beginning of Chassériau's visit to Italy and belongs to a creative period still marked by Ingres' teachings. Marc Sandoz has published around ten cartoon studies that depict women and children in landscapes that the artist gave, for the most part, to his descendants or friends[2]. Dating mainly from the years 1839-1841, this series of 'small maternities' drawn from life or composed in the studio, is not linked to any specific project[3]. We can compare our sheet more precisely with two studies executed on the same date that use a similar technique: Two women in a landscape, one of whom is seated and carrying a child, fig. 1, art market[4]) and A young mother and two children in a landscape, fig. 2, private collection[5]).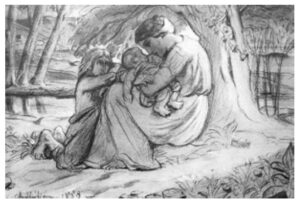 Like his master, Chassériau draws inspiration from Ancient Greek and Italian Renaissance models to create his monumental, sensual female figures. He also uses features from family and friends, including those of his sisters Adèle and Aline, to sketch in his figures' faces. Thus the profile of the young woman in our study could be that of Adèle, echoed in A double portrait of the artist's elder sister drawn from life between 1841 and 1843[6].
Is the subject pagan or religious? This deeply poetic image exudes a profound tenderness through the gesture of filial and maternal love: the eagerness of the child standing on tiptoe holding out a flower to his mother; the exchange of loving glances and the mother's hand gently resting on the child's head. Looking at such a display of affection, multiple readings are possible: at first glance we might see an evocation of spring with the scene unfolding in front of a field of flowering wheat – the child, through his gesture, bringing proof of the renewal of nature to his mother. Furthermore, we might read the detail of the immaculate white veil covering the young woman's hair as an allusion to Mary with the flower proffered by the child 'Jesus', a lily – a symbol of purity.
Either way, both of these themes highlight the rebirth and purity of Nature. If the Ingresque influence remains tangible in the precision of the line contouring the figures, the spring landscape prefigures the creations of Pierre Puvis de Chavannes, Gustave Moreau and Maurice Denis in its freedom and simplicity.
Despite the years that separate us from its genesis, the perfectly conserved state of this drawing allows us to appreciate the work as its creator conceived it. The celestial blue of the paper has not altered and reveals the artist's work – using the tonality of the ground to catch the light by leaving certain areas of the paper untouched, then drawing in the characters' volumes in black pencil highlighted with white gouache.
---
[1] Louis-Antoine Prat, Théodore Chassériau (1819-1856), Dessins conservés en dehors du Louvre, Cahiers du dessin français, n° 5, Paris, 1988, n° 39.
[2] Cf. Marc Sandoz, Portraits et visages dessinés par Théodore Chassériau, Cahiers Théodore Chassériau II, Paris 1986, p. 142-153, n° 140-150.
[3] Léonce Bénédite, Théodore Chassériau, sa vie et son œuvre, unpublished manuscript published by André Dezarrois, 2 vol., Les éditions Braun, Paris, 1931, vol. 1, p. 132.
[4] Cf. L.-A. Prat, op. cit., 1988, n° 35 et M. Sandoz, 1986, n° 140, p. 142-143, currently at Pia Gallo Llc, New York.
[5] Cf. L.-A. Prat, op. cit., 1988, n° 38 et M. Sandoz, 1986, n° 141, p. 142-143. Sandoz sees the young boy as Chassériau who occasionally used himself as a model (cf. Le retour de l'enfant prodigue, 1836; Marc Sandoz, Catalogue raisonné des peintures et estampes, 1974, n° 26).
[6] Louis-Antoine Prat, Chasseriana : quelques œuvres de Chassériau réapparues, article de la Tribune de l'Art vendredi 15 mai 2020. Cf. Jean-Baptiste Nouvion, Chassériau : correspondance oubliée, Les Amis de Théodore Chassériau, 2014, p. 35, fig. 10.