Louis Appian
Lyon 1862 – 1896
Young naked woman lying on a rock
Red chalk on brown paper.
496 x 750 cm – 19 1/2 x 29 1/2 in.
Black ink workshop stamp L. Appian top left ( not listed in Lugt ).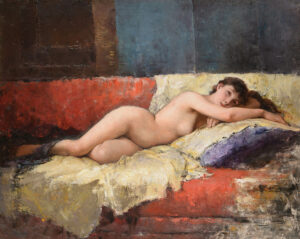 Son of Adolphe Appian, Louis trained at the School of Fine Arts in Lyon in 1879, where he attended the teaching of Michel Dumas and Jean-Baptiste Danguin. In 1885, he obtained the Paris Prize[ 1 ] which allows him to join the capital and enter the workshop of Alexandre Cabanel. From 1888, he began to exhibit in Paris, at the Salon de la Société des artistes français, presenting portraits and genre scenes. Dead at the age of 34, his talent was recognized: « Louis Appian was an artist of the brightest future and who left some powerful and strong works. Death took him in full youth, which happens too often for the best »[ 2 ].
This study of elongated naked women is rather rare in the work of this artist, better known for his landscapes in the line of his father Adolphe. We can nevertheless cite some paintings in which he magnified the female body as Fan cover[ 3 ] and Model lying on a sofa ( fig. 1 )[ 4 ].
Condition report: some spots and tears on the upper left edge. Old tear restored in the lower middle part and around the edges.
[ 1 ] « The Paris Prize of the School of Fine Arts in Lyon, with the help of which a Lyonnais artist is sent to Paris, for three years, with a pension of 1,800 francs, was awarded to Mr. Louis Appian, son of the landscaper Adolphe Appian », Chronicle of Arts and Curiosity, n ° 28, 1885, August 22, p. 219.
[ 2 ] From the Review of the century, literary, artistic & scientific, flight. 10, p. 715.
[ 3 ] Paris, Artcurial sale, November 7, 2012, n ° 82.
[ 4 ] Monaco, HVMC sale, June 16, 2019, n ° 247.