Pierre Justin Ouvrié
Paris 1806 – Sotteville-lès-Rouen 1879
View of the church of Menat, in Auvergne
Watercolor.
83 x 45 mm – 3 1/4 x 1 3/4 in.
Signed and dated Justin Ouvrié 1835.
Inscribed on the back of the framing cardboard Souvenir de Mme Carven / 10.6.1940.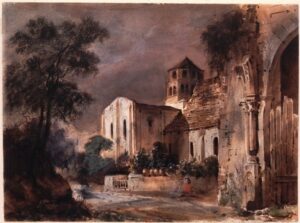 The painter and lithographer Pierre Justin Ouvrié studied with Baron Taylor and Abel de Pujol in Paris at the École des Beaux-Arts. From 1831 onwards, he exhibited at the Salon views of towns and monuments, animated with historical or anecdotical scenes.
This watercolor represents the church Saint-Ménélée in Menat, a small village in the Puy de Dôme in Auvergne. Formerly the church of an abbey attached to Cluny, Saint Ménélée was one of the main centers of the Monastic Reform movement in Auvergne. During the French Revolution, the church was sold and deconsecrated but it was re-sacralized in 1802 and it became the parish church of Menat.
Justin Ouvrié discovered Auvergne in 1835 and visited numerous villages such as Menat where he executed this view of the chevet of the church bathed in sunlight. The same year, he presented a View of the Mont d'or, also executed while he was in Auvergne. A watercolor representing a view of the church taken from the same point of view by an anonymous artist is in the Bibliothèque nationale de France[1]  (Fig. 1)
[1] Département Estampes et Photographie, EXT RESERVE VE-26 (Q)
Perfect condition. Laid down on cardboard.