Thomas Schotter Boys
Pentoville 1803 – London 1874
View of a gothic castle by a lake
Watercolor on paper.
83 x 45 mm – 3 1/4 x 1 3/4 in.
Signed J. Boys.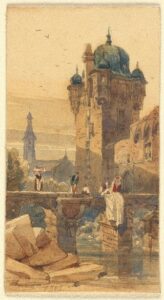 Trained in London with the engraver George Cooke, Thomas Schotter Boys went to Paris where he met Richard Parkes Bonington who persuaded him to dedicate to painting. He exhibited in the Royal academy of London from 1824 and at the Paris Salon from 1827 onwards. He executed several lithographed books, the most famous being Picturesque Architecture in Paris, Ghent, Antwerp, Rouen with 28 plates printed for the first time in chromolithography, that was directly printed in color, in London by Charles Hullmandel in 1839[1]. He also collaborated with L'Univers pittoresque (Firmin Didot, Paris, 1835-1863) by providing illustrations printed on steel.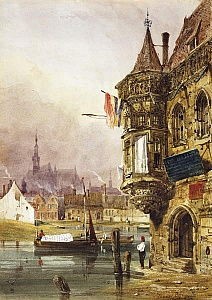 Although of very small dimensions, this watercolor executed with much care and precision, demonstrates great refinement. Thomas Schotter Boys made other works of similar dimensions, many of them are in the Pierpont Morgan Library, such as Interior of a Church (New York, The Morgan Library, inv. 1986.2054) or View of Andernach (New York, The Morgan Library, inv. 1986.2053; Fig. 1).
In this vertical composition, the artist focuses his attention on the tower of a gothic building, probably a church or an abbey, standing near a river. The composition and architecture recall a watercolor called View of a building in Ghent on river Lys and dated 1833 (London, Christie's, 20 March 1990, n° 163; Fig. 2).
[1] Copy from the Cleveland Museum of Art, inv. 1946.36.8.
Condition report – Perfect condition.