Grigory Gluckmann
Vitebsk, 1898 – 1973
Study of a sleeping naked woman lying on the left side
Squatting woman sketch ( on the back, pencil and black felt )
Ink, watercolor and mixed technique on paper.
285 x 280 mm – 11 1/4 x 11 1/32 in.
Signed, located and dated at the bottom right in black ink : Grigory Gluckmann, Paris, 1934.
Born in 1898, in Vitebsk, Belarus, Grigorij Efimovic Glikman entered the Fine Arts of Moscow in 1917 but remained there only three years, prompted, due to the Bolshevik revolution, to seek freedom in Europe. He first went to Berlin, where he changed his name to Grigory Gluckmann, then went to Italy where he discovered the masters of the Renaissance. He then moved to Paris where he presented his first personal exhibition at the Druet gallery in 1924. The following year, he exhibited at the Salon des Tuileries, the Salon d'Automne and the Salon National des Beaux-Arts. His works, illustrating scenes from Parisian streets crowded with walkers, sensual nudes and Parisian nightlife, are favorably received by critics. He exhibited in the Charpentier and Drouant galleries in Paris and then in New York galleries. He befriended the world-renowned violinist Jascha Heifez who became one of his greatest collectors. Painter, illustrator and lithographer, Gluckmann had a long and fruitful career. His works appear in numerous museums and private collections around the world.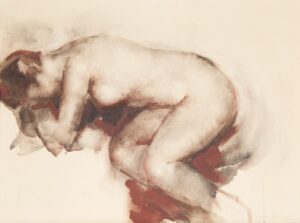 Our sheet presents a young naked semi-lying woman, the bust tilted on the left side and the head resting on the forearms. This theme of young naked women posing in lascivious and sensual attitudes is very common in the work of the artist. We can bring our drawing closer to several examples: the Naked female seated[ 1 ] ( Art Institute of Chicago, inv. 1938.225 ), Fsleeping naked emme[ 2 ] ( fig. 1, Mamaroneck, Shapiro Auctions, sale May 15, 2022, n ° 300 ) or Bare woman lying down[ 3 ] ( Christie's, London, sale June 7, 2021, n ° 77 ). Status report – good general condition, small spots. Trace of an old assembly.
[ 1 ] Aquarelle, gouache and pencil marks on beige paper; 26.3 x 34 cm; signed, dated and located, at the bottom right : Grigory Gluckmann Paris 1934.
[ 2 ] Gouache on paper; 24 x 35 cm; signed, dated and located, at the bottom right : Grigory Gluckmann Paris 1931.
[ 3 ] Aquarelle and pastel on paper; 35 x 26 cm; signed, dated and located, bottom right : Grigory Gluckmann Paris 1934.