François Boucher
Paris 1703 – 1770
Study of a Left Hand holding a Tambourine
Red chalk on beige paper
95 x 170 mm – 3 3/4 x 6 11/16 in.
Provenance – Galerie Alexis Bordes, 2014.
Literature – Françoise Joulie in Dessin du XVIe au XXe siècle, Galerie Alexis Bordes, Paris, 2014, n° 12, Fig. C.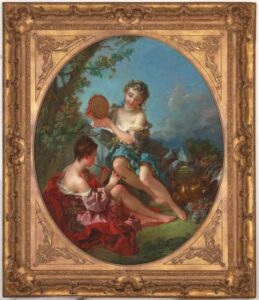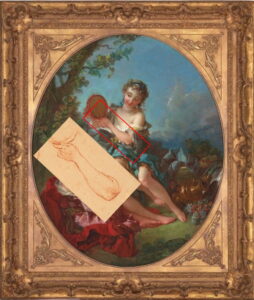 A preparatory study for the arm of a bacchante holding a tambourine in a painting (Fig. 1) executed circa 1745 for Madame de Pompadour and nowadays in the De Young Memorial Museum of the Fine Arts Museums of San Francisco, this graceful and tiny drawing is characteristic of Boucher's studying small details of a painting in the process of its preparation. Françoise Joulie dated the beginning of this practice of small isolated detail studies to the beginning of the 1740's and she added that some of them may have been cut to be mounted together. Such a gathering of drawings in a Renaud mount can be seen in an American collection (Regina Slatkin, François Boucher in North American Collections. 100 drawings, Washington 1974, n°74). A group of detail studies in the Musée des Beaux-arts in Besançon was probably gathered on such a mount.
According to François Joulie, some students like Charles Michel Ange Challe and both Boucher's sons in law Jean-Baptiste Deshayes and Pierre Antoine Baudouin, owned a great number of these studies, which were scattered in the auctions held after their death.