François Léon Benouville dit Léon Benouville
Paris, 1821 – 1859
Study for a woman by a spinning wheel
Black chalk on brown paper.
323 x 256 mm – 12 11/16 x 10 1/16 in.
Stamp of the artist François Léon Benouville (L. 228c) lower right.
Born in Paris in 1821, François Léon Benouville apprenticed in the studio of François Édouard Picot at the Ecole des Beaux-Arts in 1837. Younger brother of the landscape artist Achille Benouville, he started at the Salon of 1838. After obtaining the great Prix ​​de Rome for painting in 1845, Léon left for his stay at the Villa Medici in the company of his brother, winner of the grand prize for historical landscape the same year. In Italy, Léon devoted himself to history painting, developing a predilection for religious subjects. On his return to France, he obtained public recognition with Saint-François d'Assise, transported dying to Sainte-Marie-des-Anges, blessed the city of Assisi, exhibited at the Salon of 1853 and purchased for the Luxembourg museum ( now in the Musée d'Orsay, Paris). He died prematurely at the age of 38 of typhoid fever.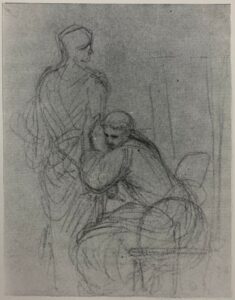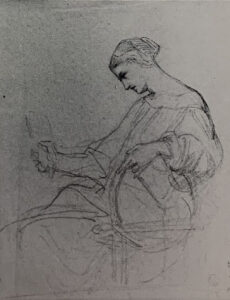 Our drawing is related to two other studies in black chalk: A scene with a woman at the spinning wheel[1] (fig. 1) from the Pierrey-Laforest collection in Paris and a Spinning Study[2] (fig. 2) of the Rouen Museum of Fine Arts.
Léon Benouville undoubtedly designed these studies with the aim of producing a painting of which we have not, for the moment, found the subject and the location.
Condition report – traces of gluing at the four corners of the sheet.
[1] Black chalk ; 352 x 292 mm ; Pierrey-Laforest collection, Paris. Cf. Marie-Madeleine Aubrun, Léon Benouville (1821-1859). Catalogue raisonné de l'œuvre, Nantes, 1981, p. 305, D. 511.
[2] Pierre noire sur papier chamois ; 268 x 239 mm ; Rouen Museum of Fine Arts, Inv. 897.6.92 B. Cf. Marie-Madeleine Aubrun, op. cit., p. 305, D. 512.