Emma DUTHOIT ou SIROT-DUTHOIT (La Madeleine, 1879 – après 1936 ?)
Samson massacring the Philistines from a sculpture in the Douai museum
Charcoal on paper mounted on canvas.
Signed lower left in black ink: Emma Duthuit/July 1901.
On the back, old label with the following mention: Dessin à la sanguine par Mme EMMA SIROT-DUTHOIT/ Sanson massacrant les Philistins d'après la terre cuite de Jean de Bologne du musée de Douai/1901.
900 x 850 mm – 35 7/16 x 33 7/16 in. (1065 x 940 mm – 41 15/16 x 37 1/64 in. with frame)
Born in 1879 in La Madeleine, near Lille, Emma Duthoit is a painter who teaches her art in normal schools, colleges and high schools. In 1904, she married Henri Sirot (1868-1951), architect and painter from Douai who was a pupil of Émile Dusart at the school of architecture at the academies of Valenciennes and who studied at the Ecole Nationale Supérieure des Beaux-Arts. Arts of Paris. After her marriage, she signed her works Emma Sirot with the name of her husband. Together, they exhibited at the Salon des artistes français[1] and received the Academic Palms. If Emma mainly works in oil painting but also illustration, her husband has a preference for watercolor. The subjects are frequently common according to the travels of the couple: Semur-en-Auxois, Collioure, Bruges and Brittany where they go on several occasions (1908 and 1930). Obviously, many works have as their subject their city of Douai where the Chartreuse museum keeps a still life by Emma Sirot executed in 1906[2].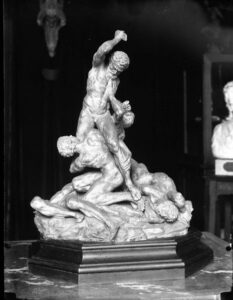 This large-scale charcoal drawing, signed and dated Emma Duthoit July 1901, illustrates a sculpture entitled Samson massacring the Philistines kept at the Chartreuse museum in Douai (inv. 934, fig. 1). This group attributed to the Bolognese artist Giambologna (1529-1608), born in Douai, represents an episode in the story of Samson, a biblical hero whose exploits are recounted in the Book of Judges. The scene represents Samson killing with the jawbone of the Philistines who wanted to capture him[3].
This sculpture attributed to Giambologna in the collections of the Charterhouse of Douai is inspired by two marble groups kept at the Victoria & Albert Museum in London: one created by Giambologna Samson slaying a Philistine in 1560-1562 and the other by Vincenzo Foggini Samson and the Philistines in 1749.
[1] The columnist Paul Delvaux wrote, in the Revue des Beaux-Arts of April 1, 1925, about the Douai Salon: "[…] the number of canvases not being limited, we notice a quantity of works signed Sirot . What a Sirot! […] It is not unpleasant to see so many paintings by Mme Emma Sirot, because they are all good, this professor has a very fine talent, and what does not spoil anything, she is a patriot whom the Germans found good to take into captivity in their country during the war. […]".
[2] See http://artmarines.blogspot.com/2010/11/emma-sirot-1879.html
[3] At a wedding feast, Samson challenges about thirty guests to solve a riddle and when they fail, he kills them. The father of the bride, having taken it badly, took his daughter back, which did not please Samson who burned the harvest of the Philistines. Response from those who went to Judea to capture Samson there. But the latter, possessing Herculean strength, did not let it go and "finding the jawbone of a fresh donkey, he stretched out his hand, seized it and slaughtered a thousand men".