Jan Frans van Bloemen dit l'Orizzonte
Anvers, 1662 – Rome, 1749
Roman Landscape Animated with Figures
Oil on canvas.
380 mm x 450 mm – 14 15/16 x 17 11/16 in.
Provenance: London, Sotheby's, 5 July 2007, lot 223 ; Vienna, Dorotheum, 18 April 2012, lot 544 ; private collection.
Painter of Flemish origin, Jan Frans van Bloemen trained with his elder brother Pieter and with Anton Goubau (1616 – 1698). He left Anvers with his brother in 1684 and travelled to France and Italy. He arrived Rome in 1686 and joined the community of Northern artists from Via Margutta. He settled in Claude Lorrain's studio and befriended with the vedute painter Gaspar van Wittel. He spent the greater part of his career in Italy, essentially in Rome, which he only left once to visit Naples and Sicily.  His "arcadian" landscapes were much sought after by foreign travelers and local aristocracy. His subtle endless horizons earned him to be called Orizzonte.
Without real concern for topographic precision, Jan Frans van Bloemen painted a landscape from the Roman countryside, with what seems to be the Monte Albino in the background. The building on the left hand-side, a fortress or an abbey on a hill, seems to be inspired by buildings he could have admired during his trips around Rome.  He organized his composition in different and successive plans and placed, on the foreground, a group of trees to interrupt the horizontal perspective and induce a feeling of depth. The seated figures have no mythological or religious meaning but only serve to animate the composition by adding bright colors – the man's red drapery on the right-hand side and the woman's blue dress on the left-hand side – and to create an idyllic atmosphere. In his paintings, Van Bloemen often placed two figures conversing one in front of the other.
The attribution of this painting to Van Bloemen was confirmed by Giancarlo Sestieri who dated it from the end of the artist's career[1]. This landscape's composition, featuring hills and buildings from the Roman countryside in the background, can be compared to other works by van Bloemen, in the collections Amenta[2] and Malvezzi[3] as well as in a Roman collection[4] (fig. 1-2), and from the Alte Pinakothek in Munich (inv. 2826).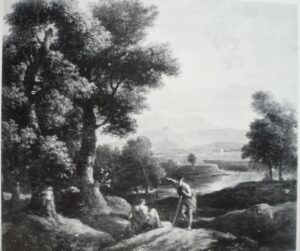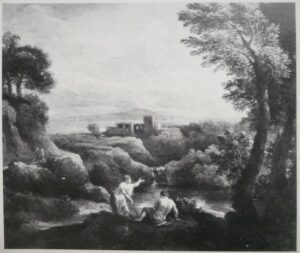 Condition report: the canvas has been relined in the past.
Examination under U.V. light: some tiny retouching in the sky and in the vegetation are visible. The paint is in a very good state of conservation.
[1] Certificate dated from 20 September 2007.
[2] Andrea Busiri Vici, Jan Frans von Bloemen Orizzonte e l'origine del paesaggismo settecentesco, Milano, 1974, n° 42-43.
[3] Andrea Busiri Vici, op. cit., n° 115-116.
[4] Andrea Busiri Vici, op. cit., n° 103-104. Paire d'huiles sur toile. H. 36,7 cm ; L. 45 cm. Rome, collection privée.