Louis-Léopold Boilly 
La Bassée 1761 – Paris 1845
Preparatory Studies of a Young girl and a Child's heads for The Heroine of Saint-Milhier
Signed Boilly lower left.
Black chalk, stumping and white chalk heightening on light brown paper.
278 x 258 mm – 10,95 x 10,16 inch
Provenance – Albert Pontremoli, his sale, Paris, 20-21 June 1924, n° 2 (650 francs) ;  where acquired  by Léon Voillemot, according an inscription in the sale catalogue ; Léon Voillemot, Paris, his stamp lower right (L. 789d) ; Michel Tardieu, his sale, Paris, Tajan, 18 May 1999, n° 61 ; Paris, Artcurial, 14 November 2017, n° 409 ; Private collection.
Bibliographie – Jacques Seligmann, L.-L. Boilly, exhibition catalogue 31 May-22 June 1930, Paris, p. 53 ; Louis-Léopold Boilly, exhibition catalogue, Hôtel Sagan, Paris, 1930, n° 158 ; Annie Scottez de Wambrechies et Florence Raymond, Boilly (1761-1845), exhibition catalogue, Palais des Beaux-Arts de Lille, 2011, p. 124, note 2 ; Étienne Bréton and Pascal Zuber, Louis-Léopold Boilly (1761-1845), 2 vol., Arthena, 2019, vol. 2, p. 522, n° 261 D.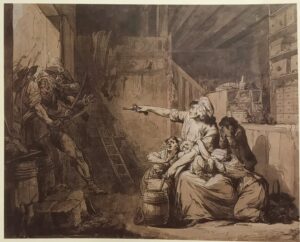 This spectacular drawing bears two head studies borrowed from a larger sheet illustrating a famous revolutionary theme, The Heroine of Saint-Milhier, dated from 1794 (fig. 1, cf. Étienne Bréton and Pascal Zuber, Louis-Léopold Boilly (1761-1845), 2 vol., Arthena, 2019, vol. 2, p. 522-523, n° 262 D). This work illustrates the legendary bravery of a young Vendean woman who protected her children and resisted assaults from scavengers. This story was reported in the Recueil des actions héroïques et civiques presented to the Convention Nationale by "citoyen" Léonard Bourdon(Paris, an II, 1793-1794, p. 25, n° 28). To be distributed in every school of the recent Republic, it was intended to stimulate the civic mindedness of the young generation and provide painters with a repertoire of the French Revolution great deeds to illustrate.
The Republican government created the Concours de l'An II, inviting artists "to represent on canvas the most glorious events of the French Revolution of their choosing" in order to restore public commission and stimulate Republican propaganda, by honoring the regime's new heroes. Boilly eventually chose to paint the Triumph of Marat instead of the Heroine of Saint-Milhier, a theme already largely covered by other artists such as the painters François-André Vincent, Marguerite Gérard and Martin Drolling and engravers such as Cazeneuve & Thouvenin (BN Estampes, 52 B 9861) and Debucourt (BN estampes, 85 C 1719 11, cf. Claude Langlois, « Les dérives vendéennes de l'imaginaire révolutionnaire », in Annales. Histoires, Sciences Sociales, Cambridge University Press, 4th year, n° 3, 1988, pp. 771-797).
The subject, drawn from the revolutionary imagination, is the story of a young Vendean woman, resisting hordes of scavengers. Surrounded by her four children, she is aiming a gun at the bandits and another at a gunpowder barrel, prepared to blow up the house and her own family rather than fall onto the assailants' hands.
This lively study prepares the figures of two of the heroine's children, the young girl on her right side and the baby she is holding on her knees. The artist focuses on the expression of terror on their faces, accentuating the light and shadows effects by marking the edges with powerful black chalk and the volume with delicate touches of white chalk.
Condition report – Very good condition. False margins – Blue grey paper