18th century German school, Nicolas Faas ? After Gérard de Lairesse
( Liège, 1641-Amsterdam, 1711 )[ 1 ]
Mercury presenting the head of Argus to Juno
203 x 253 mm – 7 15/16 x 9 15/16 in.
Blue ink and blue wash.
Framed in pencil with inscription at the bottom in the middle « N: Faas » and dated at the bottom right « 1749 ».
Provenance :
Munich, Karl & Faber, November 8, 2013, n ° 356.
Bibliography :
Franz Reitinger, Die Blaue Epoche. Reduktive Farbigkeit im Rokoko, Lukas Verlag, Berlin, 2016, p. 250, cited in note 76.
This drawing represents the god Mercury, kneeling, presenting to the goddess Juno the head of the giant Argus. This illustration takes up the episode of Mercury and Argus from Metamorphoses Ovid ( book I, 668-688; 713-723 ): Juno, invaded by jealousy, had instructed the giant Argus with a hundred eyes to watch over Io, a young priestess, that her husband Jupiter had seduced and transformed into heifer. Jupiter ordered his son Mercury to kill Argus to deliver Io. He charmed him with his flute and cut off his head. Juno collected the hundred eyes of Argus which she placed « on the feathers of the bird dedicated to it, they shine in stars, on its spread tail »[ 2 ]. [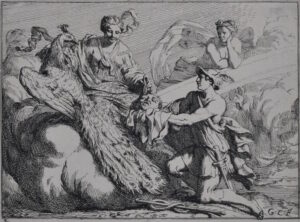 The protagonists of this mythological scene are remarkably executed, as kneeling Mercury, or Juno accompanied by his favorite animal, contemplating the severed head of Argus. A great realism emerges from this scene of a particularly careful achievement. This drawing is a copy of an engraving ( fig. 1 )[ 3 ] by Nicolaes Visscher II ( 1649-1702 ) after a drawing by Gérard de Lairesse ( 1641-1711 ) for a series carried out on the history of Mercury and Argus. The name N: Faas written on the montage does not allow us to attach this drawing to the work of a listed artist. We propose to allocate this sheet, due to the style and use of blue ink wash, to the 18th century German school.
Status report: slight bites.
[ 1 ] We thank Dr. Nataliya Markova, curator of the Dutch and Flemish drawings of the Pushkin Museum in Moscow, for having informed us of the relation of this drawing with the engraving of Gérard de Lairesse.
[ 2 ] Metamorphoses Ovide ( book I, 720-723 ).
[ 3 ] A copy of this engraving ( 10.5 x 14.6 cm ) is kept at the Michael C. Carlos Museum in Atlanta ( inv. 2017.036.128).