Jean Alaux, dit le Romain
Bordeaux 1786 – Paris 1864
Arcadian Scene: Nude Figures by a Sarcophagus
Black chalk, brown wash, heightened with white. Laid down on paper.
Inscribed or signed Alaux on the verso. Numbered 143 on the recto, lower right.
166 x 234 mm – 6 9/16 x 9 3/16 in. (drawing) 194 x 262 mm – 7 5/8 x 10 5/16 in. (the sheet).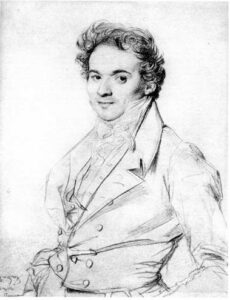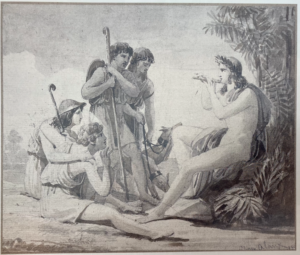 Jean Alaux was apprenticed to Pierre Lacour in Bordeaux and Pierre Narcisse Guérin in Paris. He completed his formation in Rome at the Villa Medici, from 1817 to 1821. There, he befriended Ingres whose studio he represented in a lovely painting now in Musée Ingres-Bourdelles, in Montauban. Ingres also painted two portraits of Jean Alaux (fig. 1). An acknowledged history painter, Alaux exhibited at the Paris Salon from 1824 onward. He was appointed the director of the French Academy in Rome in 1846, and elected a member of the Academy of Fine Art in 1851. As one of Louis Philippe's favorite painters, he was responsible with the decoration of the Galerie des Maréchaux, Galerie de Louis XIII and Galerie de l'Empire in Versailles. He was also commissioned the restoration of Primaticcio's frescoes in the Château de Fontainebleau, the decoration of The Estate General rooms in Versailles and the execution of huge paintings representing the Battles of Denain, Valenciennes and Villaciosa. His career went on during Second Empire, as he was commissioned to paint the cupola in Luxembourg palace and to restore the frescoes painted by Rosso Fiorentino in the gallery of François.
There is no reason to question the attribution suggested by the inscription on the verso, which moreover strongly resembles the artist's signature as it is visible on many other drawings, such as Apollo among the Shepherds (Drouot estimation, June 13 2014, lot 24). Quite characteristic of the artist also are the subject and, with regards to the graphic style, the use of vigorous white heightening and the figures' physical type.
Condition report – Good overall condition. The sheet is entirely pasted on a backing paper. Slight cracking in the white gouache.