Francesco Zuccarelli
Pitigliano 1702 – Florence 1788
Arcadian Landscape; Shepherds resting by a River, a Landscape in the Bac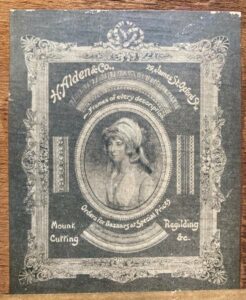 kground
Pen and brown ink, brown wash, grey wash, white heightening.
275 x 385 mm – 10 13/16 x 15 2/16 in.
Provenance: An early 20th century British collection (see the framer's label on the back, ill.1)
A talented painter and draftsman, Zuccarelli was very appreciated by his contemporaries who abundantly collected his poetic landscapes. He began his training in Tuscany with Paolo Anesi (1697 – 1773) and then spent several years in Rome in the studio of Giovanni Maria Morandi (1622 – 1717). In the Eternal City, he discovered the classical tradition of landscape painting through the works of old masters, such as Claude and Poussin, but also through contemporary painters, such as Jan Frans Van Bloemen (1662 – 1749) and Andrea Locatelli (1695 – 1741). After a brief return to Florence, he moved to Venice, where he became known primarily due to Count Francesco Algarotti who purchased 36 of his paintings. He earned high regard of important collectors and met the Consul Joseph Smith who introduced him to the English circle, very present in the Venetian society. It is possible that he decided to go to London following his advice; he stayed there from 1752 to 1762 for the first time and then from 1765 to 1771. In London, his career expanded rapidly, he worked for many amateurs and was one of the founders of the Royal Academy. Back in Italy, he received orders from prestigious collectors, such as the Elector of Saxony and the King of Prussia.
Zuccarelli drew landscapes as abundantly as he painted them. His rich technique, often enhanced by strong highlights with white gouache, gives his drawings the quality of small paintings. His vision of nature is more idealized and idyllic than that of his Venetian contemporaries Marco Ricci (1676 – 1730) and Giuseppe Zaïs (1709 – 1781/1784). Unlike Canaletto, who was a more analytical vedutista, Zuccarelli tries to reproduce in painting and drawing the feeling of the air and light. Imbued with Arcadian poetry, his works communicate a pastoral and serene grace, inherited from the Venetian pictorial tradition.
One of Zuccarelli's favorite subjects, the theme of resting shepherds treated in this drawing has a prominent place in the artist's work.  The artist's graphic style proves to be pictorial and daring: abundant wash and white heightening mingle with highly free, vigorous – almost scratchy in places – pen and ink strokes.
Framer H. Alden & Co's elegant label pasted on the framing backboard testifies the drawing's British provenance. Henry Cyril Alden (1871 – 1939), born into a framer's family, established in 1893 at 29 James Street, Oxford Street.
Condition report – In an early 20th century mount. (18 ½ x 23 15/16 in.). Slightly oxidized gouache.