Gregorio de Ferrari
Porto Maurizio, 1647 – Genoa, 1726
Angel studies
Black chalk.
298 x 218 mm – 11 3/4 x 8 9/16 in.
Annotated, bottom right, in brown ink : Do Piola
Watermark: a crowned cross
Gregorio de Ferrari trained in Domenico Fiasella's workshop in Genoa between 1664 and 1668 before going to Parma, where he discovered the work of Corrège which had a great influence on his style. Back in Genoa, he collaborated on major decorations with Domenico Piola then the first Genoese painter whose daughter he married in 1674, intervening in particular in Palazzo Rosso and in the churches of San Siro and San Giovanni Battista in Sapierdarena. His reputation exceeded the Liguria, and in 1685 he was notably instructed by Vittorio Amedeo de Savoie to produce the frescoes of several rooms in the Palazzo Reale in Turin.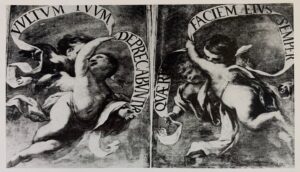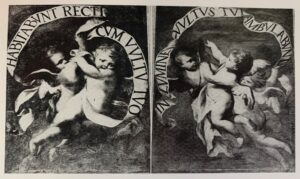 These charming black chalk putti studies are close to paintings illustrating Flying putter carrying inscribed psalms phylacters in the church of San Bartolomeo degli Armeni in Genoa ( fig. 1 and 2 ). Formerly attributed to Domenico Piola, these paintings were returned to the corpus of Gregorio de Ferrari by Venanzio Belloni, thanks to a document found in the archives of the church dating from 1672[ 1 ]. The movement of the bodies of the cherubs recalls the influence of the studies of the Corrège in Parma of which Gregorio made several copies[ 2 ].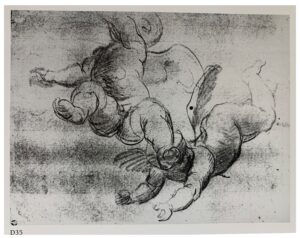 The firm model, the double outline ring and the way to reproduce the hands of the cherubs are characteristic of the artist and can be linked to a drawing of Two putti in flight ( fig. 3 )[ 3 ]. Hair buckles treated in small wavy and fast lines are typical of the artist's graphic process.
Condition report: reintegration in the up and down left corners and some spots.
[ 1 ] Mary Newcome Schleier, Gregorio De Ferrari, Torino, Artema, 1998, p. 23, n ° 5 and p. 25, fig. 5.
[ 2 ] Same, p. 23, n ° 4, p. 24, fig. 4 and p. 141, n ° D1.
[ 3 ] Same, p. 155, n ° D35 ( Black stone, 254 x 185 mm ). Drawing sold at Christie's, London, December 8, 1988, lot 210.