Graceful wishes in Versailles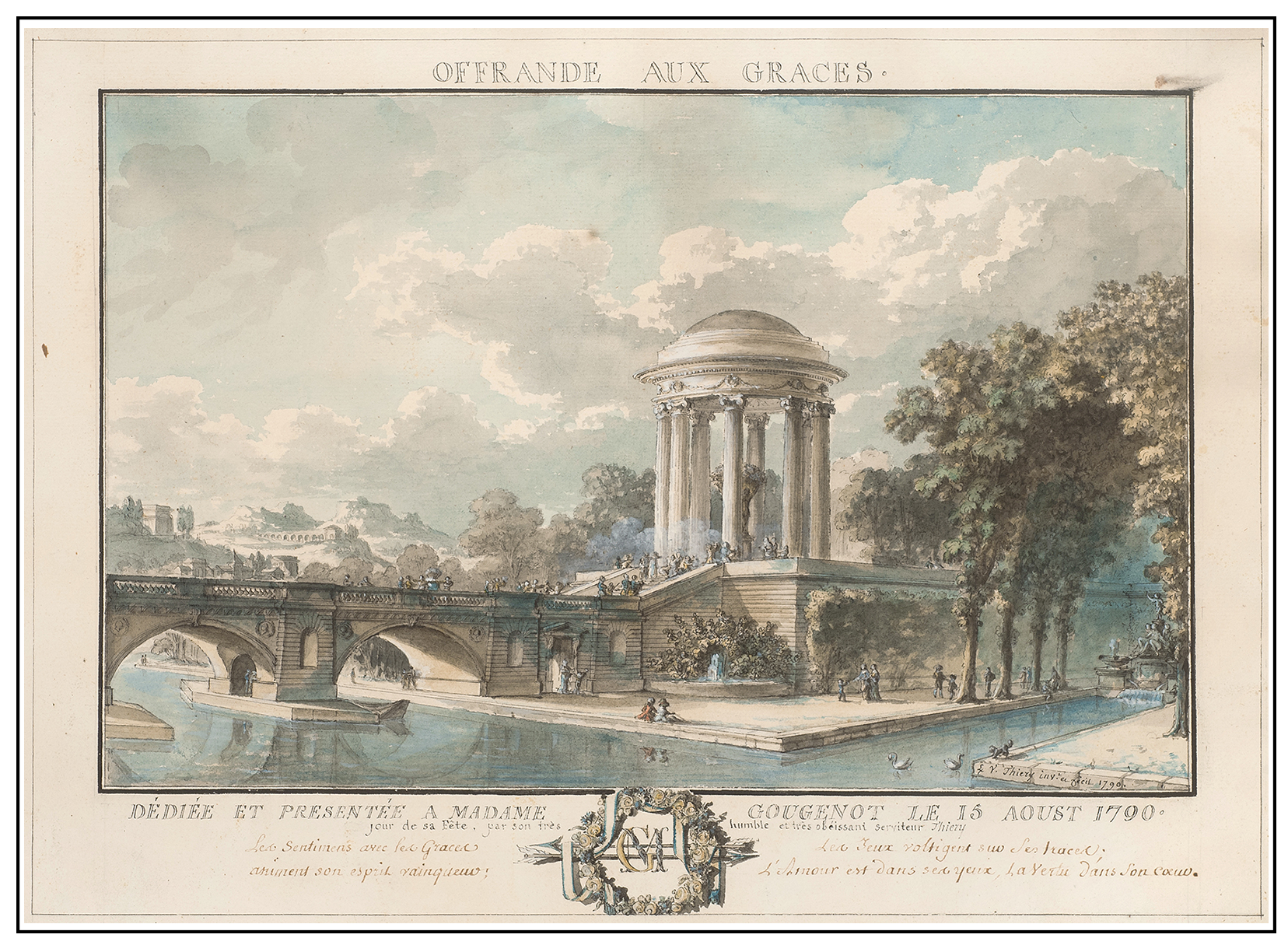 This month's focus highlights three sheets that have captured our attention.
---
Offered to Marie-Antoinette's chambermaid, Madame Gougenot, by an admirer on 15th August 1787, 1789 and 1790, they are full of charm and humour. Their creator Luc Vincent Thiery de Sainte-Colombe, a self-taught draughtsman, often added after his signature "without ever having learnt to draw". An amateur in the literal sense of the word, "the one who loves", Luc Vincent Thiery de Sainte-Colombe was an artist who enjoyed and pursued drawing his entire live. His first known work dates 1762, whereas one of his last works was executed in 1820, the year he turned 87, and, as he specified, drawn "without glasses"! 
Little information is readily available on this ardent devotee of drawing, although his works are in the collections of various museums – including New York's Metropolitan Museum of Art! – and on the art market. We are delighted to bring these three sheets to your attention and allow you to learn more about this artist, who was courteous, cultured and mischievous at the same time, and about Madame Gougenot, whose name can be found in various biographies of Marie-Antoinette, but whose identity is sometimes confused.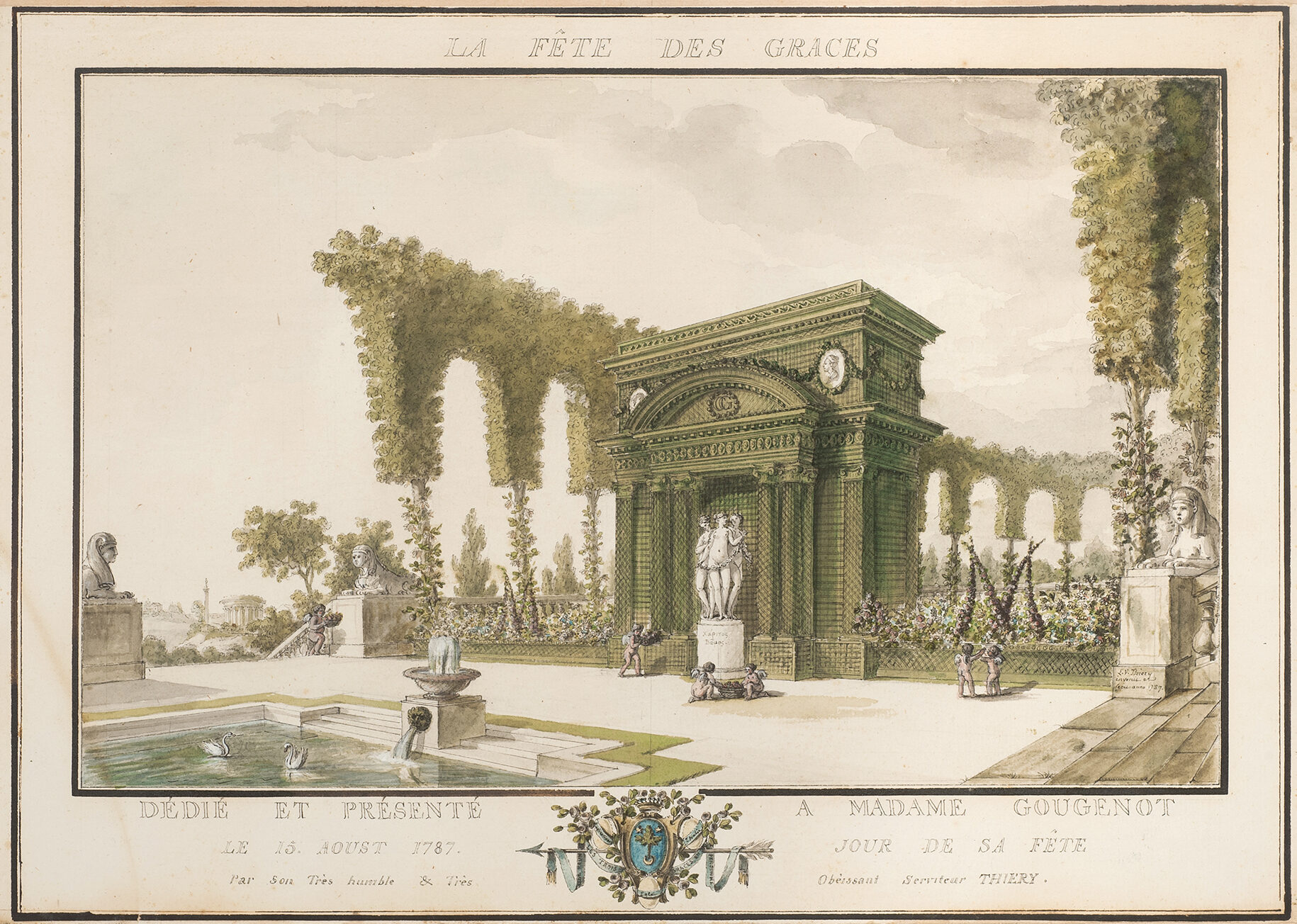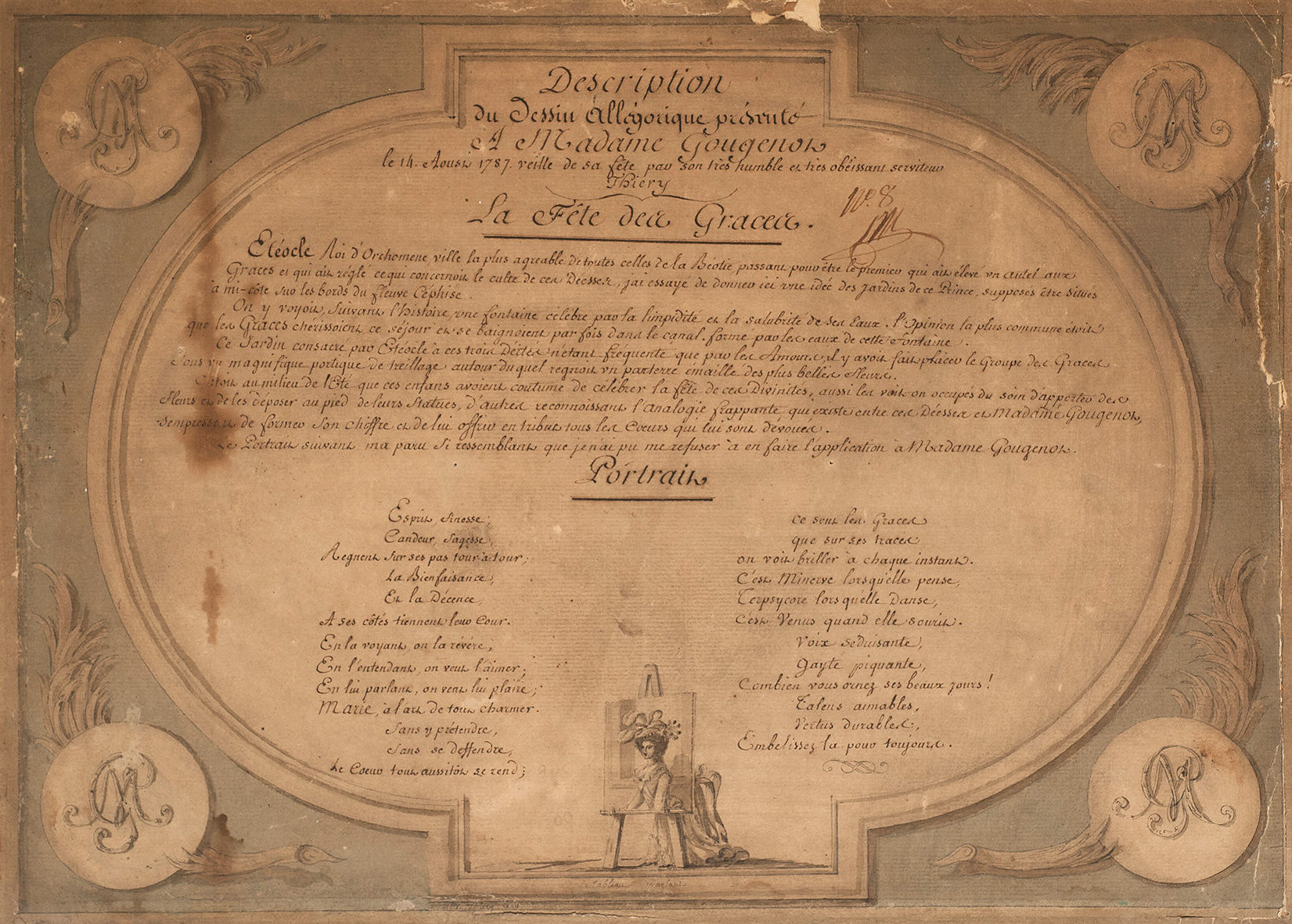 LUC VINCENT THIERY DE SAINTE-COLOMBE
Paris 1734 – Soissons 1822
The Festival of the Graces
Pen and brown ink, grey wash and watercolour. Signed and dates lower right L. V. Thiery invenit et fecit anno 1787 and inscribed in Greek χαριτος βωμος (altar of graces). Inscribed on the mount Dédié et présenté à madame Gougenot le 15 août 1787 jour de sa fête par son très humble et très obéissant serviteur Thiery. Inscribed on the coat of arms Les trois Grâces en personnes/Thalie/ Eglé/ Euphrosine. On the verso, une Description du dessin allégorique présenté à Madame Gougenot le 14 Aoust 1787 veille de sa fête par son très humble et très obéissant serviteur Thiery, with an extensive explanatory text, a small cartoon and medallions with the initials of Madame Gougenot.
295 x 418 mm (11 5/8 x 16 7/16 in.)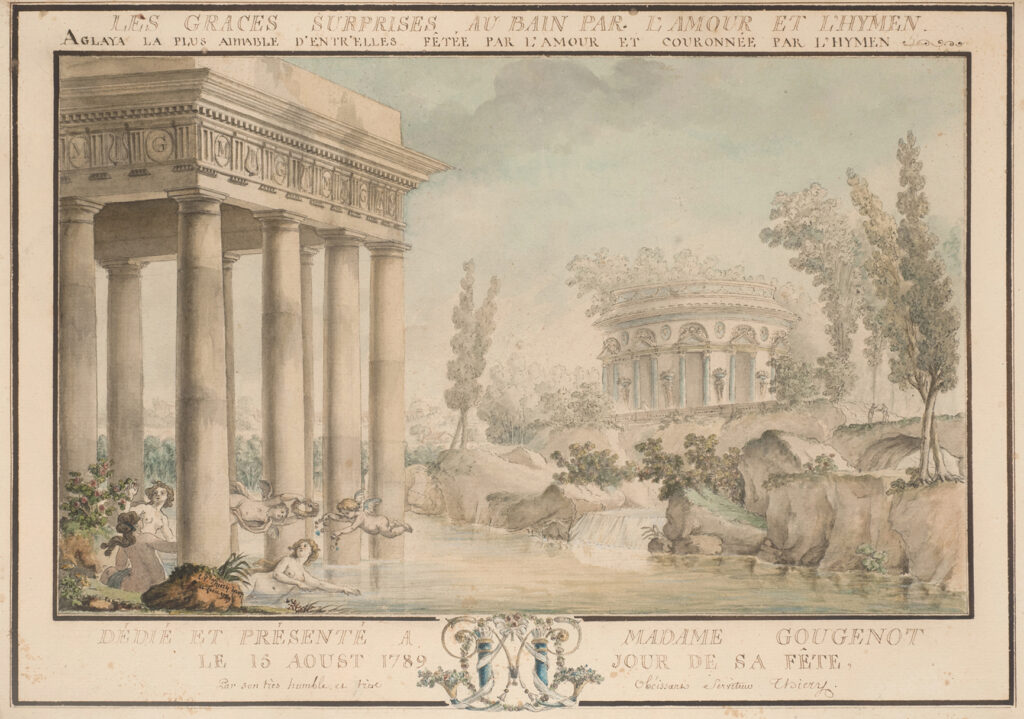 The Graces surprised while bathing by Cupid and Hymen. Aglaea, the most lovable among them, is celebrated by Cupid and crowned by Hymen.
Pen and brown ink, grey wash and watercolour. Signed and dated lower left L. V. Thiery invt. et fecit 1789 and inscribed Dédié et présenté à madame Gougenot le 15 août 1789 jour de sa fête par son très humble et très obéissant serviteur Thiery.
307 x 421 mm (12 1/6 x 16 9/16 in.)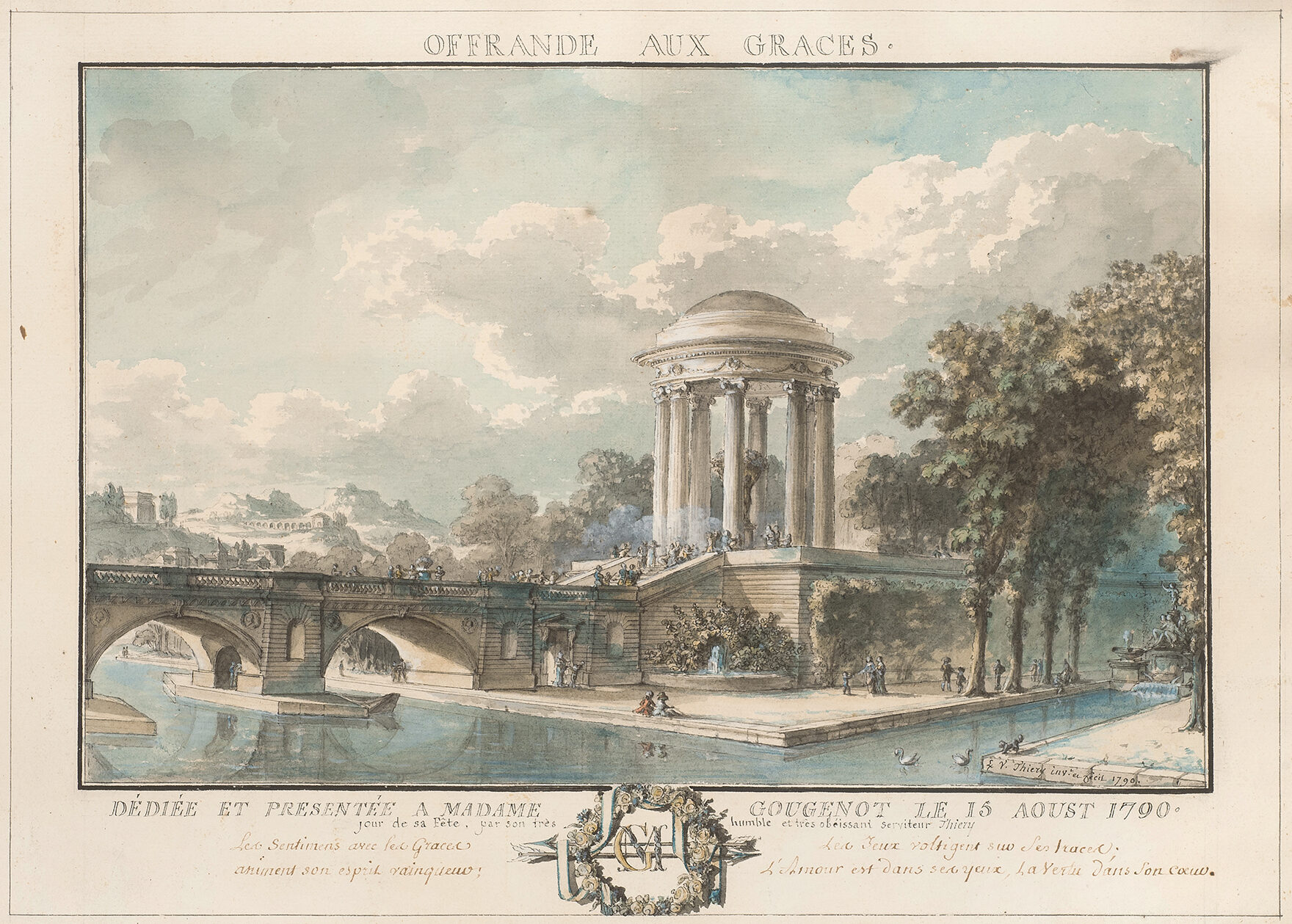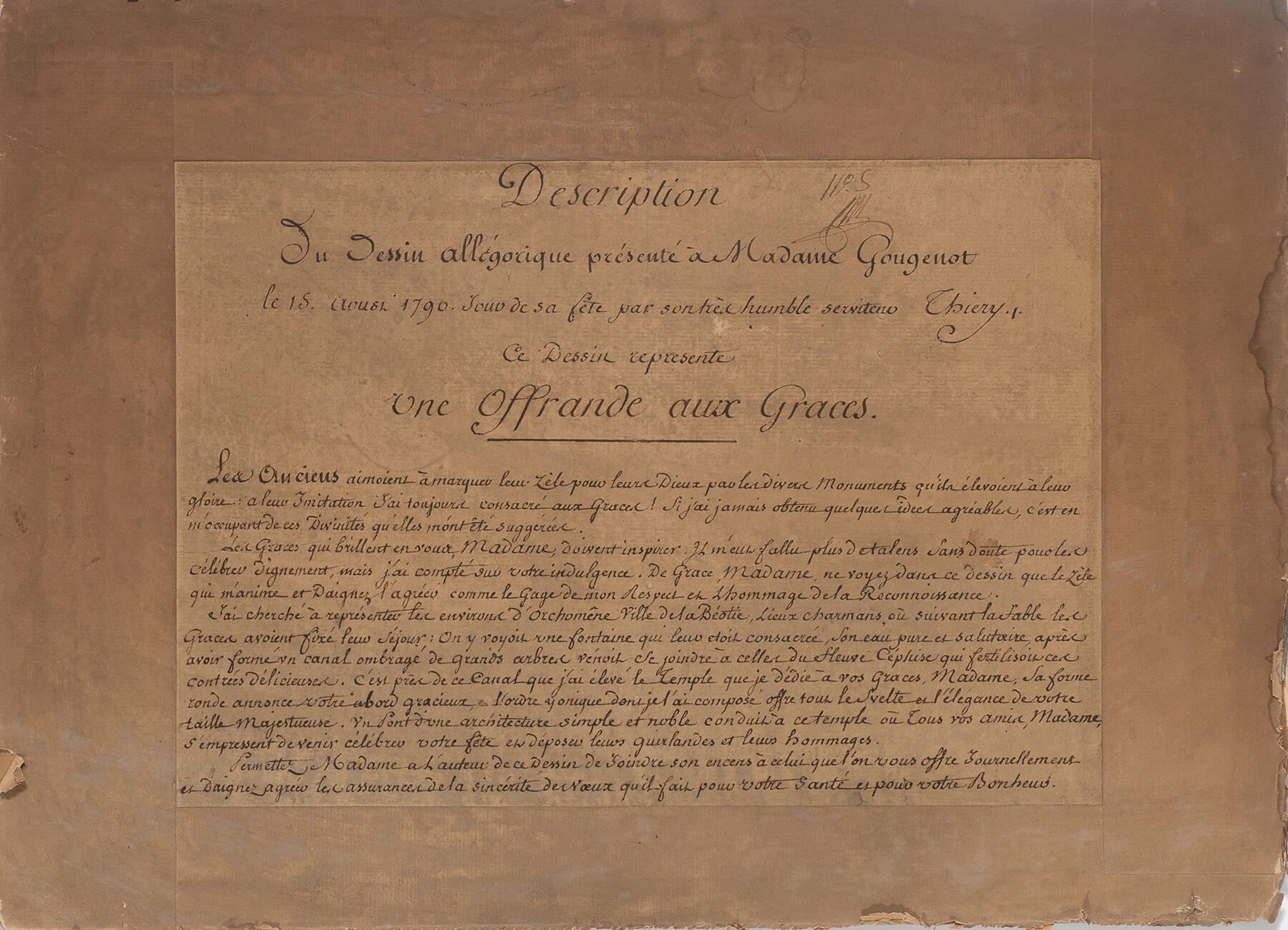 Offerings to the Graces
Pen and brown ink, grey wash and watercolour. Singed and dates lower right L. V. Thiery invt et fecit 1790 et inscrit sur le montage Dédié et présenté à madame Gougenot le 15 août 1790 jour de sa fête par son très humble et très obéissant serviteur Thiery. Les sentimens avec les Grâces animent son esprit vainqueur ; les Jeux voltigent sur ses traces ; l'Amour est dans ses yeux, la vertu dans son cœur.
307 x 430 mm (12 1/6 x 16 15/16 in.)
---
These three signed and dated gouaches, in remarkable condition and still in their original mount and frame, are rare examples of amateur graphic production of the 18th century. They were offered by Luc Vincent Thiery de Sainte-Colombe to Madame Gougenot on the occasion of her patron saint's day on 15th August 1787, 1789 and 1790.
Through the combination of antique and Anacreontic references with architectural settings evoking the groves of Versailles, the artist created small lovely scenes that celebrated the Graces for their beauty and charms and, by assimilation, the recipient of the drawings. The latter was also complimented with short amiable verses inscribed at the bottom of the sheet. The artist explained some of his illustrations with a text on the back. Thus, on the original cardboard backing of the frame of The Festival of the Graces (La Fête des Grâces) of 1787, there was a sheet containing explanations, a poem and small drawings. The arrangement of the elements, both refined and humorous, on the sheet makes it quite an exceptional item in its own right. In the laudatory text on the back of the Offerings to Graces of 1790, the artist explained that he wanted to represent the ancient Boeotian town of Orchomenus to pay tribute to his muse.
An amateur artist, as he regularly called himself, Luc Vincent Thiery de Sainte-Colombe and his oeuvre were studied by M. Collet in a biographical entry published in the Bulletin de la Société Archéologique historique et scientifique de Soissons of 5 December 1887 (p. 125-136). Despite this extensive study, today he is little known and biographical entries on him are rarely extensive. A lawyer by training, Thiery de Saint-Colombe entered the Ministry of War where he remained for many years, while dedicating his leisure time to cultivating his interest in writing, drawing and engraving. The author of grammar books and of guides and almanacs, such as Almanach d'un Voyageur (1783) and Guide des amateurs et des étrangers voyageurs étrangers à Paris (1787), which he illustrated himself, he was also a prolific draughtsman, mostly drawing views of towns, gardens, castles and houses, but also of architectural capricci and stage designs. His production spanned from the 1760s until the early 1820s, and the artist almost never forgot to sign, date and comment his works. Related to the artists Jean Godefroy and Charles Monet through his marriage, Thiery de Sainte-Colombe probably received their encouragement.
Among his identified works, we can mention a set of delightful views of the Anglo-Chinese gardens of the castle of Mortefontaine,in the collection of the National Archives. They are dedicated to Joseph Bonaparte "in gratitude for the kindness which His Majesty bestows on his son-in-law and his family" by the artist who modestly described himself as a simple amateur "having never learned to draw" and, given his age, no longer hoping to further improve.
In the Paris Institut National d'Histoire de l'Art (INHA) there are two albums ccontaining sheets by his hand and works by other members of his family, as well as a Recueil de fontaines, bosquets et fragmens d'architecture de divers auteurs (Collection of fountains, groves and architectural fragments by various artists), a factitious compilation of elevation drawings, plans and fountain projects put together by the artist, which shows his interest in architecture.
A drawn Architectural Capricccio and the etching of the same composition are in the Metropolitan Museum of New York, whereas four etching plates are in the Soissons Museum, according to M. Collet.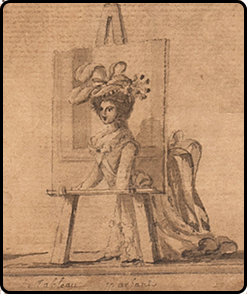 Some sheets by his hand that sometimes appear on sale give picturesque evidence of the interiors and of the lifestyle of his time, such as The Family Bouquet or The Garden of the Paternal House of Mr. Paulmier in Nemours. All of these works, both naïve and spiritual, replete with humour and cultivated references, bear witness of his diligent and talented draughtsmanship, but they only form a small part of his work. Doubtless many more certainly remain to be discovered.
An "indefatigable artist", "of peaceful character", who "reserved for ladies the civility and politeness of the past" in the words of his biographer, Luc Vincent Thiery de Sainte-Colombe also loved balls, as it can be seen in a self-portrait in which he represented himself in wig and short breeches "dancing the entrance of a sailor" of M. Feuillet, in one of the albums in the INHA's collection.
A member of many learned and literary societies, he also frequented the royal court where he could make acquaintance with the recipient of the present works, who is indicated by her name, Madame Gougenot. As her patron saint's day was 15th August, she was named Marie. In all probability, this Madame Gougenot is Marie-Antoinette's chambermaid whom Madame Campan describes as the wife of a "gentleman, a very wealthy landowner, receiver-general of taxes, Butler of the King, died a victim to the revolution. » (Mémoires sur la vie privée de Marie-Antoinette, reine de France et de Navarre, 1822, posthumous publication in 1823, vol. 1, p. 295)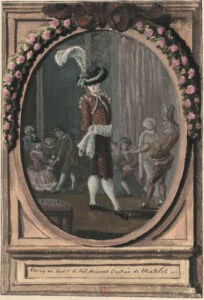 Marie-Madeleine-Xavière de Collignon did in fact wed, in 1786, Louis-Georges Gougenot, Lord of Croissy in the church of Saint-Roch, (Mémoires de la société académique d'agriculture, des sciences, arts et belles-lettres du département de l'Aube, 29, vol. 92). Her spouse was the son of Georges Gougenot de Croissy (1721-1784) administrator of the East India Company and honorary secretary to the king and his consort Marie-Angélique Virany de Varennes (1727 – 1787), both portrayed by Greuze (Royal Museums of Belgium, 1758, inv. 6553 and New Orleans Museum of Art, 1757, no. 76268). In 1787, Louis-Georges Gougenot took over as King's Butler after the resignation of his brother-in-law Antoine Meslin, the husband of his sister Angélique (Almanach de la cour by William Ritchey Newton, p. 3101). He remained faithful to the king and queen until the last hours of the monarchy and was executed by the Revolutionary Tribunal in 1794. The Liste générale et très-exacte des noms de tous les conspirateurs (General and very exact list of all the conspirators), no. III, no. 638, drawn up in after the documents of this tribunal indicate his address in rue Le Pelletier and his age as 56 years which is probably a transcription error. As he was born in 1758, he must have been 36 years old. Madame Gougenot, who is reputed to have dressed the queen the day before her flight to Varennes and who was interrogated on 23 June 1792, long survived her husband as she was living "in Paris in retirement and affluence" when Madame Campan was writing her Memoirs on the private life of Marie-Antoinette, Mémoires sur la vie privée de Marie-Antoinette, reine de France et de Navarre.
While these three graphic tributes prove the artist's undoubted admiration for Madame Gougenot, she was not his only muse. A certain Madame Barbereux also received a drawn tribute from the artist in 1786, The Ceremony at the Temple of Gaiety. With his pleasant and spontaneous draughtsmanship Luc Vincent Thiery de Sainte-Colombe expressed the carefree, witty and liberated art de vivre of the 18th century, which unleashed free expression of fantasy and personal talent, even with the advent of great social upheavals. These three drawings are a rare testimony to the refinement of the practice of drawing and poetry as one of the main means of distraction, but also of social exchange, in the daily life and privacy of the educated circles of the time.
---