Pierre Mignard (after)
Troyes 1612 – Paris 1695
Visitation
Pen, grey wash, white heightening.
512 x 345 mm – 20 3/16 x 13 9/16 in.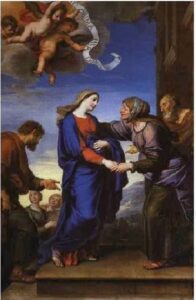 This large drawing illustrating the biblical episode of the Visitation repeats a painted composition by Pierre Mignard[1], commissioned in 1657 by the Visitandine sisters in Orléans. Fixed on the convent walls in 1660, it was moved during French Revolution and transferred in 1985 to the sisters' choir in the Visitation Chapel (Caen Visitandines' monastery), where it is still in situ. Much admired, this composition enjoyed great success and was largely reproduced in painting, such as the anonymous canvas in the church of St Martin de Lévignacq, or in drawing, such as the sheet by Louis-Joseph Rondot (1756 – 1802) in Troyes (Musée des Beaux-arts, INV MEH.32.12)[2]. It was also publicized through prints by Jean-Louis Roullet (1645 – 1699)[3], François-Martin Testard (active during first third of the 19th century) and Pierre Filloeul (1696 – circa 1754).
Born in Troyes, Pierre Mignard followed in the steps of his brother Nicolas and turned to painting. After training with Jean Boucher de Bourges, he entered Simon Vouet's studio which he left in 1634 only to go to Rome. Pierre stayed in Italy for more than twenty years and actively took part in the classicizing trend, very much inspired by Raphael and the Carracci. In 1656, Pierre Mignard was called back to France where had to face Lebrun's animosity and manœuvres to keep him away from royal commissions. Nevertheless, he was finally commissioned to paint the gigantic cupola in Val-de-Grâce, a church founded by Queen Anne d'Autriche. After Colbert's death, he succeeded in establishing himself as the greatest painter decorator and, as a recognition of his talent, it was he who was chosen by the King's brother Philippe d'Orléans to work in Saint-Cloud.
In his Visitation, Pierre Mignard accentuated the tenderness in Elizabeth and Mary's gestures. The author of our drawing, who could be a member of Pierre Mignard's atelier, most probably worked after the drawn composition and not after a print. Evidence of this is the tight space separating Joseph from Marie as in the painting, whereas it was enlarged in the printed reproductions. The copyist made a small mistake in positioning the foot which made him crop the corner of the step. (see details).
[1] Oil on canvas, 364 x 241 cm. Signed and dated lower left: « P. Mignard Pinxit 1660 ».
[2] Bernard Dompnier, Visitation et visitandines aux XVIIe et XVIIIe siècles, actes du colloque d'Annecy, 3-5 juin 1999, organized by Centre d'histoire Espaces et cultures, Université Blaise Pascal, Clermont-Ferrand and Centre d'anthropologie religieuse européenne, École des hautes études en sciences sociales, Paris, p. 386, note 24.
[3] Cambridge MA, Harvard Art Museums (inv. G3459).
Condition report – The sheet, which has a small tear on the lower right edge and a longer one in the center left, was laid down on a thicker paper. The upper left corner formerly folded. Numerous workshop stains throughout the composition.