Olivio Sozzi (attributed to)
Catania 1690 – Ispica 1765
The Annunciation
Gouache and oil on paper, scalloped in the upper area
353 x 273 mm – 13 7/8 x 10 3/4 in.
Literature – Marty de Cambiaire, Neapolitan drawings 1550 – 1800, Paris, 2014, n° 27, p. 68.
This oil on paper whose style is simultaneously evocative of Sebastiano Conca, Francesco Celebrano and especially Corrado Giaquinto for the figures' features and the essential elements of the composition, can be related to the works of the Sicilian Olivio Sozzi. 
Originally from Palermo where he trained, Sozzi went to Rome from 1729 to 1732 to work in Conca's studio. He became friendly with Corrado Giaquinto, some of whose drawings and bozzettihe owned (Citta Siracusano, "Francesco Sozzi », in Giuliano Briganti, La Pittura in Italie. Il Settecento, Milan, Electa, 1990, p. 870).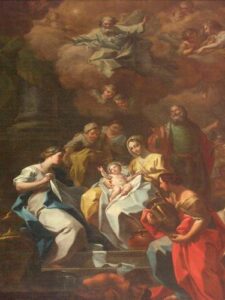 The attribution of our work relies in the first instance on the reasoning that the author of this grisaille is an artist influenced by Conca and Giaquinto, both in the composition and in the technique. However the unusually intense iconography and the scalloped form of the upper area of the composition recall models of the Sicilian settecento. Accordingly as Citti Siracusano has written, from the 1750s Olivio Sozzi "is active in Catania and eastern Sicily, where he infuses artistic circles with the capricious and gallant grace of a type of rococo derived from Conca and Giaquinto". The putti in the lower right on the one hand, the step that creates an angle, the balustrade and the kneeler on which the Virgin is leaning on the other hand, are direct borrowings from two paintings by Giaquinto (The Death of St. Joseph for the St. Joseph chapel in the church of Santa Teresa di Torino and the Annunciation at the Galleria Borghese in Rome) proving intense familiarity with the master's work. Comparison with a few works by Sozzi, in particular the Birth of the Virgin for the church of Santa Maria della Stella in Militello (in situ, fig. 1), shows similar use of architectural and decorative elements such as columns, balustrades, steps, but also the draperies and the still lifes of silverware placed in the foreground. The figures are close to those of Giaquinto in their poses and their clothing. Two small heads chatting in the background are similar in the two works and Sozzi has used the figure of God the Father flying over the scene, arms spread out, on several occasions in other compositions, sometimes sitting on a terrestrial globe over which the dove of the Holy Spirit flies, a depiction that seems however to derive more from Conca's models. This figure, which it is very close to the figure in our oil on paper, can be found in his fresco, Triumph of the Sacrament (vault of the nave of Santa Maria Maggiore in Ispica).