Étienne Parrocel
Avignon, 1696 – Rome, 1775
Study of a Hand
Black chalk heightened with white on beige paper
160 x 160 mm – 6 5/16 x 6 5/16 in.
Provenance – Paris, Thierry de Maigret sale, 17 March 2004, part of lot 81.
Born to a family of artists, Étienne Parrocel was the son of Jacques Ignace Parrocel (1667 – 1722) and the nephew of Pierre Parrocel (1670 – 1739) with whom he travelled to Italy. He settled there permanently, which explains why he was called Le Romain and sometimes signed his paintings as Stefano or Stefanus Parrocel. A member of the Accademia di San Lucca in 1734, he received numerous commissions for Roman churches such as the cupola of Santa Maria Maddalena or frescoes in Basilica Santa Prasseda. However, he kept on working for churches in Provence.
A prolific draughtsman, he made serval studies with black and white chalks on beige paper to prepare his painted works. A great number of these studies of figures or details are in the Louvre Museum and École des Beaux-arts in Paris.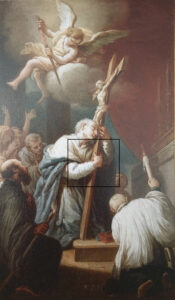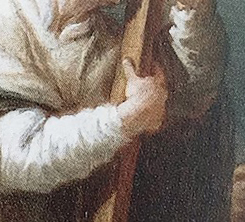 This study of a hand holding a tubular object comes from a group of drawings traditionally attributed to the artist, which included numerous studies of hands, arms, and draperies in black or red chalk (Fig. 1)[1]. This drawing could be a first thought for the hand of the kneeling young Jesuit priest holding a crucifix in the foreground of the altar of the Capella San Carlo Borromeo in the Roman Basilica Santa Prasseda, executed by the artist in 1739 and representing San Carlo Borromeo interceding for the cessation of plague. (Fig.2)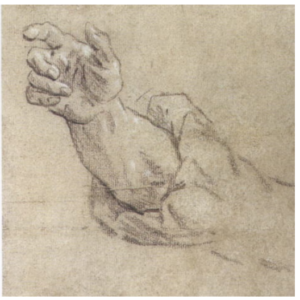 [1] Study of a Right arm, black chalk heigtened with white) from the same collection than our drawing (Paris, Thierry de Maigret sale, 17 March 2004, lot 81).
Condition report: Good condition, small wax or glue stains and one foxing, not affecting the image.