Ventura Salimbeni
Siena 1568 – 1613
Saint Stephen
Pen and brown ink, red chalk, red wash.
Drawing 172 x 125 mm, old mount 213 x 165 mm – Drawing 6 3/4 x 4 15/16 in., old mount 8 3/8 x 6 1/2 in.
Provenance: William Bates, his stamp (Lugt 2604); inscription on the old mount ??624 7 inconnue.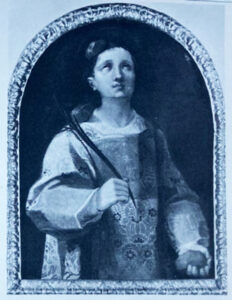 This refined drawing, combining pen and ink with red chalk and wash, can be attributed to the Sienese artist Ventura Salimbeni, Arcangelo Salimbeni's son and Francesco Vanni's step brother. It is a preparatory study for one of the four painted panels of the catafalque in the church of San Giacinto, representing The Virgin and child, The Christ supported by Angels, Saint Laurent et Saint Stephen. Our drawing is preparatory for the last of them, saint Stephen (Fig.1)  being easily identified, holding the palm of martyrdom in his right hand and a stone evoking his lapidation in the left one.
Originally designed for the Compagnia di Santo Stefano in Siena, the catafalque was later transferred into the church of Santo Spirito before being definitively installed in the church of San Giacinto. Formerly attributed to Francesco Vanni and Francesco Rustici, the paintings have been given back to Ventura Salimbeni thanks to archive documents attesting they were ordered by the Compagnia de Santo Stefano on June 16th 1604 (cf L'Arte a Siena sotto i Medici 1555 – 1609, Rome, De Luca, 1980, p. 156). These small paintings (53 x 38 cm) convey a sorrowful softness very typical of the Sienese art, as well as geometric and faceted shapes inherited from Domenico Beccafumi's influence.
Typical of Salimbeni are the saint's facial type, with his large and hollow eyes looking upward, and the combination of techniques, pen and ink with red chalk, a graphic manner his stepbrother Francesco Vanni also developed to the extent that it is sometimes complicated to differentiate one from the other.
Condition report – Good condition, the sheet is laid down on an ancient mount. Small foxes that are barely noticeable.