Mauro Gandolfi
Bologne, 1764 – Bologne,1834
Portrait of Giovanni Battista Capponi
Pen, black ink and grey wash. Black ink framing lines.
201 x 114 cm – 7 15/16 x 4 1/2 in.
Bibliography : Jean-Luc Baroni, Primaticcio to the Gandolfis. Three Centuries of Emilian Paintings, Frawings, and Prints, P & D Colnaghi, Spring 1987, p. 50-52 ; 18th Century Italian Drawings in the Metropolitan Museum of Art, New York, 1990, p. 76-77 ; Savelli Dipinti Antichi, 1996, p. 145-148.
Mauro Gandolfi, born in Bologna in 1764, son of Gaetano, left Italy in 1780 to travel to Marseille, Strasbourg, Paris and several cities in Flanders. Back in Bologna, he studied at the Accademia Clementina from 1791 and collaborated with his father. His work soon turned to engraving and in 1801 he went to Paris at the invitation of Pierre Laurent and Robillard-Péronville to produce etchings after the major works in French museums. The minister Charles Maurice de Talleyrand entrusted him with the restoration of paintings bought in Italy. In 1816, he made a short trip to the United States, called by the painter John Trumbull to make an engraving of his painting The Signatories of the Declaration of Independence (an engagement he did not accept). On his return to Italy, he worked for Luigi Bardi in Florence, making engravings after important old master paintings.
Our drawing is a portrait of Giovanni Battista Capponi, poet, botanist, physician, philosopher and astrologer, who lived in Bologna from 1620 to 1675.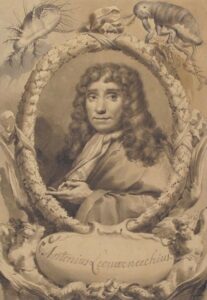 This sheet belongs to a series of four drawings by Mauro Gandolfi representing portraits of illustrious men of science and scientific literature: Giovan Battista della Porta in the University of Bologna, Anton van Leeuwenhoek in the Metropolitan Museum of Art in New York[1] (fig. 1, inv. 1987.177) and Joseph Pitton de Tournefort in a private collection in Bologna[2].
These three drawings and ours, executed by Mauro Gandolfi, are based on models made by his father Gaetano at the request of Ferdinando Bassi (1710-?), assistant to the famous botanist Giuseppe Monti and keeper of exotic plants at the Botanical Garden of Bologna. He commissioned pen-and-ink and watercolour portraits of the most illustrious scientists from Antiquity to his time – Illustrium in Re Botanica Scriptorum – from the artists of the Accademia Clementina in Bologna to form an ideal gallery, proudly named the Pinoteca Bassiana. Of the 150 drawings in this collection, now kept in the Botanical Garden of the University of Bologna, the great majority belong to Gaetano Gandolfi.
Donatella Biagi Maino, who discovered and researched this important group, has confirmed the attribution of our sheet to Mauro Gandolfi. However, she has not been able to unravel the mystery of how his son took over Gaetano's work: was it just an exercise, a ricordo or a commission?
[1] Published, erroneously, as attributed to Gaetano Gandolfi by Jacob Bean and William Griswold (cf. 18th Century Italian Drawings in the Metropolitan Museum of Art, New York, 1990, p. 76-77)
[2] Donatella Biagio Maino, Anna Maria Matteucci Armandi et Anna Ottani Calvina, Savelli, Dipinti antichi. « Idea Prima ». Disegni e modelli preparatori, pittura di tocco dal '500 al '700, 1996, p. 145-148, ill. p. 147.